July 06, 2013
and so... on it goes
Isaiah 19:2: And I will spur Egypt against Egypt; and they shall fight every one against his brother, and everyone against his neighbor; city against city, and kingdom against kingdom.
This footage is taken from a pro-Morsi demonstration in Egypt after the Egyptian military intervened on behalf of the millions of Egyptians who demanded an end to the rule of the Muslim Brotherhood in Egypt.

While addressing Abdul Fattah al-Sisi, the Egyptian commander-in-chief, Wahhabis who support Morsi vow to become suicide bombers that will target secularists, Christians, Shiites, and all other opposition forces. A Wahhabi lady covered in black vowed to burn her Christian compatriots.
We do indeed live in interesting times.
Posted by LindaSoG at 08:05 AM | Comments (4) | TrackBack
---
June 25, 2013
Hey Mom... What's for dinner?
om nom nom nom
Wife 'killed, cut up and cooked her husband into a korma to stop him from abusing his stepdaughter
Police have arrested a woman in Pakistan on suspicion of murdering her husband, chopping his body to pieces and boiling it in a bid to get rid of the evidence.
Zainab Bibi, 42, allegedly told authorities she killed her husband Ahmad Abbas because he tried to sexually assault her 17-year-old daughter from another marriage.
She told police she sedated her husband by mixing sleeping pills in his tea and strangled him with rope before dismembering him.
Police say they discovered her plot after neighbours complained about a bad smell coming from her home.
Bibi's 22-year-old nephew, Zaheer Ahmed, has also been arrested in connection with dismembering Abbas's body.

"It occurred to me that if I cooked the body in parts with spices and aromatic ingredients that would curb the stench.'
But she insisted she had no plans to eat the resulting dish, or to feed it to others, adding: 'I had a plan to do away with the cooked stuff by throwing it in a gutter. I would say to people that it had spoiled.'
I guess husbands aren't exactly hallal.
Posted by LindaSoG at 08:50 AM | Comments (1) | TrackBack
---
August 14, 2009
Celebrate Diversity!
The Palestinian Territories has its own google page, and today, it looks like this:
Now, isn't that special? It appears that Google is honoring the sole palestinian contribution to society, the nail bomb. But no, if you thought that, they would tell you're wrong.
It would appear that google chose to honor a Danish inventor on the pali page today, Hans Christian Ørsted, who discovered electric currents can create magnetic fields. Ørsted was born today and since the palestinians have no history of their own, I guess google decided to loan some Danish history to them .
Why not, especially since google gets to use that logo, even if Ørsted has no connection whatsoever to the palestinians, the palesinians have never heard of him and have no idea who he is. When they look at that logo, they can only think of one thing and one thing only.
And we know why google used the occassion of Ørsted's birthday to put up a picture the palestinians would surely find exciting and inspiring, and that would be to excite and inspire them to do the one thing they know how to do.
Gee. Wasn't that thoughtful.
UPDATE: Oh my. I just realized that google had that everywhere. and silly me. I thought they only had it on the palestinian domain.
Of course, when I got that email tip, it was hours before the US google site looked like that, they're seven hours ahead of us on that side of the world. It just never occurred to me to think about that. It appeared to me that google just did that for them.
My bad.
Sorry.
Posted by LindaSoG at 07:08 AM | Comments (8)
---
July 19, 2009
Nothing to see, just move along...
Okay, if you're one of those people who get all worked up worrying about islamic terrorists and jihad on American soil, I just want to let you know that the global Islamic network Hizb ut-Tahrir conference, that's here on American soil - with the catchy title, "Fall of Capitalism & Rise of Islam," is nothing to get worked up about.
Fox News is probably being alarmist with their article about the conference titled "Islamic Supremacist Group Holds First U.S. Conference." You know how they are. It's just plain silly to warn us about the global Islamic network Hizb ut-Tahrir just because they are responsible for spawning the likes of the 9/11 terrorists. Just because they're actively working in the U.S. doesn't mean that "Jihad is coming" or that "Jihad is here."
It's not like these islamists are right wing extremists, or ex-military or even veterans, come on! This a Global Islamic Supremacist Group, they're moderates and they're perfectly legal. Never mind that last March Hizb ut-Tahrir called for "a state of war against America" and never mind that they call for an overthrow of our Constitution. It's not like we're using our Constitution anyways and their plans for the destruction of our liberties and freedom are pretty darn close to those of the current administration. So what if they plan the replacement of our current rule of law with Shari'a Law, you just might like Shari'a Law. You never know.
There's nothing to get all worked about. In fact, you should be glad these islamists are here in America. If nothing else, think of the economy. So, feel free to worry about more important things, like, is Michael still dead? Oh! That reminds me, did you know he was one of them? That's right, he converted! Didn't he look cute in his abaya? And his little boy! Just adorable.
Posted by LindaSoG at 10:34 PM | Comments (2)
---
July 14, 2009
La la la...
Hizbullah Weapons Depot Explodes in Lebanon
Lebanese and Israeli sources confirmed Tuesday afternoon that a series of explosions that rocked the border area earlier in the day took place at a Hizbullah terrorist weapons depot.

The storehouse, located near in the Lebanese village of Khirbet Salim, some 20 kilometers from Israel's northern border, was filled with Katyusha rockets, automatic rifles and ammunition.

The Lebanese Army and the United Nations Interim Force in Lebanon (UNIFIL) immediately closed off the area and began an investigation into the incident. Journalists were barred from the scene.
A sad lesson for the people of Khirbet Salim, as they bury their dead and tend to the many people injured in this accident, they can reflect upon the end result of what comes from harboring terrorists in your neighborhoods where your children play.
And yes, I'm sure there were deaths and injuries to the people of Khirbet Salim, I'm sure that's why journalists were barred from the scene. And, I'm sure Hezbollah are even now gnashing their teeth that they did not have an current incident with Israel so they could blame the deaths on the evil Zionists. If they could lay the blame on Israel, then we would see the horror, but since they can't, they'll hide it.
Oh well. Allah fubar. So it goes.
Posted by LindaSoG at 08:58 PM | Comments (4)
---
June 22, 2009
Because nothing says Freedom
like barbecue and firecrackers:
and why not, what else would you expect, after all, while his Fourth of July honored guests slaughtered their people in the streets, the best thing 0bama could think of to do was to eat an ice cream.
How wonderful of 0bama to give the dictators a day off from killing those protestors, I'm sure they must be exhausted, busting heads and surpressing dissent certainly looks like hard work. I'm sure the hot dogs will be appreciated too, I bet they don't get that every day! I guess beer is just plain impossible but maybe they could have ice cream too! Such a kindness will surely be remembered and it's bound to help the peace process between our countries, dontcha think?
That 0bama is amazing, I mean, really! Bush never would have done such a thing. Never!
Now, if you'll excuse me, I've gotta go throw up.
Posted by LindaSoG at 08:34 PM | Comments (15)
---
June 21, 2009
Is it over yet?
The shock and horror of what is happening in Iran has begun to sink in and the reality of the situation has begun to assert itself to me. I sit here and watch these kids and I wonder, what the hell are they doing? They must be out of their minds.
Surely they must realize that no matter what they do, in the end, there truly can be no change in Iran because in the end, no matter who the front guy is, it is the ayatollah who is in charge and whoever "won" would simply carry out the orders and mouth the words. These poor people storm the streets in protest that they did not get to choose the man who carries out their torture, who brings the messages from their dictator. It will make no difference in their lives who that man is, if it's Ahmadinejad or Mousavi or Mickey Mouse, they're still going to be under the same oppression, their lives will still be miserable, they will still suffer as much tomorrow as they did last week or last month or last year.
Do these people really believe that Ahmadinejad is in control or that if Mousavi won, he would be in control? That's ridiculous. And sadly, if it were true, the notion that their lives would be better under Mousavi would still be ridiculous.
After the initial burst of horror and sympathy for the Iranian youth who are being slaughtered like animals by order of the ayatollah, I took the time to look into the man they were so determined to have as their president, this so-called reformer, Mir Hossein Mousavi. I wanted to see just what it is that they thought they were fighting for, what they hoped to accomplish by electing this man, what change they hoped to bring about.
As I looked, it became clear, no matter which man won the election, be it Ahmadinejad or Mousavi, if you look at the man himself and his beliefs, there would be no change in foreign policy in Iran, for Mousavi is no different than Ahmadinejad in his beliefs, he is as hard and as radical as Ahmadinejad, as hate filled and murderous as Ahmadinejad. That's why he was allowed to run in the first place.
I watch these kids wave their green wrist bands and hold up their green fingers and I can't help but remember that green is the color of Hezbollah and Hamas, and I know that the man they support and want me to support is responsible for the formation of Hezbollah, and Mousavi took that color as his own for a reason. The Iranian youth had no quarrel with Hamas or Hezbollah or with Iran's support of these terrorists, as long they were only killing Jews. Now, of course, Hezbollah and Hamas are standing with the Iranian government as they must, because Iran has supported Hamas and Hezbollah for so long that a great debt is owed and the allegiance must be honored.
And, it is likely that Hamas and Hezbollah know that in the end, these riots will mean nothing. The ayatollah has made his decision on the Iranian presidency and his decision will stand. Eventually, the protestors will realize they cannot win and they will back down, return to their little hovels, lick their wounds and bury their dead. And, they will support Hamas and Hezbollah once again.
So, the word is that the Iranian youth love all things American. Okay, fine. They like t-shirts and baseball hats and iPods. They like rap music and blue jeans. But liking America and Americans is another story, and anyway, they like Sharia Law most of all and all of the oppression and horror that comes with it. That's what they really like, that's what they really want, and that's what Mousavi has promised them, more Sharia law.
From Mousavi's website:
"We are not against the Islamic system and its laws but against lies and deviations and just want to reform it"
Mousavi is another Islamist dictator, who thinks the current islamist dictator is lying and deviating from true islamist law. That's the change Mousavi promised to bring to Iran, and that's what the Iranian youth is fighting, and dying, in the streets for, the freedom to be oppressed by Sharia law.
The man they support is even more radical and crazy then the one they reject.
It seems to me that what they are really saying to us here in America is, "please, pull us from this fire over here and toss us into that fire over there!"
Well, that's their right, to have their vote counted, and to have the government they voted for. And they can certainly fight to the death to have it.
I can't help but feel terribly sorry for each and every one of them.
Posted by LindaSoG at 12:28 PM | Comments (5)
---
Hate Speech
Here's a surprise... this video has been banned by YouTube.
Posted by LindaSoG at 08:12 AM | Comments (6)
---
June 14, 2009
The Dictator 0bama is so willing to talk to
is busy killing his people even as I write these words. The chatter coming out of Tehran is horrifying:
The video:
The crowd is chanting "I will fight, I will die, I will take back my vote." What comes next?
and now:
That's less than 12 hours from now.
Please pray for these poor people who just want to be free of the tyrant that has stolen their freedom. They'll get no help from 0bama, who will only offer them pretty words, the same pretty words he offers us, while he sucks up to the same bastard who has denied them even basic human rights and civil liberties and who is now making a mockery of the election process, and killing them dead in the streets when they object to being railroaded by a dictator.
I bet you think such things could never happen here.
UPDATE: JUNE 15, 2009 7:36 AM EST
it's 4:00 pm now in Iran, six minutes past as I write this. Latest chatter says the protest march will go on, that former Iranian President khatami is with the students, and that Mousavi will appear as well. The Iranian "government" has denied "permission" to hold the march.
The Universities have been stormed, tear gas, pepper spray. known activists picked up and jailed. cell towers are down. Internet is sporadic and slow, difficult to load anything. most of the video coming out is one or two minutes. Anything longer crashes before it will load. Reports are that the nutjob has appeared on TV claiming that he is decendent from the prophet himself now but no one has loaded video of it yet. I've seen quite a few reports of that already, and that my friends, is the scariest thing yet.
The Iranian youth are marching in protest, and the government is shooting them in the streets. He will keep killing them, until they shut up.
Of course, don't expect 0bama to do anything, or the rest of the international world either. Oh no. They're much too busy trying to keep those damn Jews in Judea and Samaria from having babies to pay much attention to the peaceful democratic election process in Iran.

Posted by LindaSoG at 11:08 PM | Comments (3)
---
June 01, 2009
Today's Islamotard
He sure showed them, didn't he?
At least he's out of the gene pool.
Posted by LindaSoG at 07:50 AM | Comments (9)
---
May 31, 2009
From across the pond
Back in March, we watched in wonder as the Brits stood up to the moslem bastards who protested a parade in honor of the returning 2nd Battalion The Royal Anglian Regiment, known as the Poachers. They've toured Iraq twice in two years. As the soldiers reached Luton Town Hall... the moslems interrupted the parade, holding signs that said "Butchers of Basra," and called the soldiers "babykillers" and "murderers."
The Brits stood up for the troops and ran the moslem cowards right off the streets. It was a proud moment.
But things in Luton are escalating, and it should come as no surprise. It seems to be a rallying point for radical islam and terror. One of the "militants" convicted of plotting to blow up the Bluewater shopping centre in Essex in 2007 came from Luton and the 7/7 London bombers congregated at Luton station before heading to King's Cross. There are claims of four Muslims from Luton who died fighting for the Taliban in Afghanistan, and two who have traveled to Gaza to be suicide bombers in Israel.
Since the parade in March and the anti-troop protest, one of the moselms who taunted the returning soldiers has had the windows of his home smashed, and his car set on fire. The words 'Scum' and 'Get out' have been daubed on his walls. Now he's under 24 hour police protection, along with his sister and and his parents. Threatening letters have been sent a local mosque and just after midnight on May 5, Luton's Islamic Centre was torched; a firebomb hurled through a window.
Just last week, the people of Luton had their own protest, against the moslem extremists, a "peaceful" protest that quickly turned violent:
Nine people have been arrested after hundreds of anti-Islamist protesters clashed with police yesterday.

The streets of Luton descended into violence after demonstrators, many hiding their faces behind balaclavas, brandished England flags and chanted at officers.

A group called March for England was said to have organised the rally as a peaceful protest against Muslim extremists. They were joined by a local group United People of Luton.
During the protest, the mob, which included teenagers and women, held banners with slogans such as 'No Sharia Law in the UK' and 'Respect our Troops'.

Some protesters wore masks with the horned face of Sayful Islam, a local hardline political agitator who led Muslim demonstrators in an anti-war protest during the Royal Anglian Regiment's homecoming parade in Luton in March.
Groups of young men in balaclavas and England shirts chanted outside the city centre and one balacava-clad protester held a Rottweiler on a chain, while others clashed with police in riot gear.

One Asian man was hit across the face with a banner and left with a bloody nose.

A spokesman for United People of Luton, Wayne King, said many people in Luton were concerned and annoyed that the Muslim community in the town had not taken steps to deal with Sayful Islam's 'hate-filled preachings'.

The 24-year-old, who wore a T-shirt with the words 'No surrender to Al-Qaeda' on it, said: 'We decided enough was enough after the soldiers got heckled as they marched through the town centre by the Muslim extremists.

'Our community has been racially attacked for the last 10 years.

'A mosque in the town got set on fire a few weeks ago and it made national news but churches in Luton are regularly being set fire to.

'We want laws brought in to stop preachers of hate operating here.'

Luton town centre was busy at the time of the riot with shoppers enjoying the sunshine.

Many of those who joined in the march had been drinking in town centre pubs.

Later on, overhead, a police helicopter monitored the movement of the mob which at one point appeared to be making in the direction of Bury Park, an area of Luton where many of the town's Asian population live.
The police believe the protest was organized and run by skinheads, and while they were certainly in attendance, they were not the only attendees. The claim that most of the attendees were men from the pubs doesn't wash either, not with the reports that there were many women and teens in attendance. I don't understand why the authorities refuse to admit that the average person is sick and tired of extremist moslems any more than I understand why they refuse to call moslems moslem and insist on calling them asians.
But we're not quite done with the news from Luton. There has been yet another interesting development:
Extremists behind anti-war protest driven off the streets by moderate Muslims

The Muslim community turned on extremists in their midst yesterday, telling them they were 'sick and tired' of their behaviour.

The angry confrontation came in Luton, where anti-Islamist protesters brandished England flags last Sunday, before clashing with police.

The latest violence erupted as arguments raged between fellow Muslims shortly after Friday morning prayers in the Bury Park area of the town.

As the radical Muslims began to set up their stall, they were surrounded by a crowd shouting 'we don't want you here' and 'move on, move on'.
So., We have a group of moslems from the firebombed mosque chasing off the other group of moslems who protested the return of the troops.
Farasat Latif, of the Islamic Centre in Luton, which was firebombed after the protest against the soldiers, said moderate members of his community took action because police had failed to move the group on.

He said the extremists, who follow the militant group led by Sheikh Omar Bakri Muhammed, had fuelled feelings against the Muslim community which led to a march last Sunday in Luton which was disrupted by white, right-wing extremists.

Mr Latif said: 'We have been fighting these Muslim extremists for you. They represent nobody but themselves.
'The community decided to move them on because the police won't. We have asked them, but they did nothing.

'I don't know if they will be back. We have been the victims twice over - from the stupidity of Muslim extremists who metaphorically pour petrol and fan the flames of the right-wing extremists.

'This was a peaceful demonstration and we hope they get the message that the law-abiding community is sick and tired of them.'
Well. Where have you been Mr. Latif, all this time? Why did you not speak out sooner? And where were you on July 8, 2005?
After the attack on your mosque, an attack in which no one died, you said "We strongly condemn this violent Islamaphobic attack on our mosque."
After the attack on July 7, 2005, an attack in which 56 people were killed and 700 injured, you said people were "sickened" at what had happened. You also said there was anger that a conclusion had been jumped to that the attack was carried out by al-Qaida. "We should keep an open mind," you said. An open mind to what? That maybe some Amish folks did the bombing?
You know, there's nothing like having your mosque firebombed to get you "fired up," and you sure sounded fired up today. But, other than your actions today, where and when exactly have you been fighting radical moslem extremists? You make that claim, but there is nothing to back it up.
In fact, don't some of your friends and associates agree with the jihadists? You've admited to that, and to sharing some of their doctrines in your mosque, which is after all, a Ghuraaba mosque that bases its teachings on Saudi doctrine.
Somehow, I think Latif's problem is not with what Sayful Islam is saying, it's that he's saying it out there in the streets where too many people hear it and Latif doesn't like paying the price.
I don't believe in moderate moslems, and this publicity stunt by Latif and his cohorts leaves me cold. I don't trust it, and I see a wolf trying to hide in sheep's clothing.
As for the skinheads, well, they may fight the moslems today, but I will never forget that once upon a time, their master aligned himself with the islamists to kill Jews. They are not welcome in my foxhole. In this case, the enemy of my enemy is still my enemy.
But to the good folks of Luton who stood against the moslem radicals, good on ya.
Posted by LindaSoG at 07:18 PM | Comments (3)
---
May 22, 2009
Of course, if you do what he says
When the landlady of my Toronto apartment building said an outraged neighbour had filed a complaint about me over an apparently inappropriate hallway interaction with his wife, my mind raced through the countless conversations I've had with fellow tenants, none of which seemed a possible source of offence.

It turns out, it wasn't a salacious transaction that had caused the complaint, but rather a neighbourly and -- to me -- entirely forgettable greeting, little more than a brief "good morning" as I passed my neighbours on the way to work.

Still, it was enough of an affront for the man -- once a doctor somewhere in the Middle East, my landlady clarified -- to feel I had broken a cultural taboo. The incident started an awkward feud which has involved warnings not to repeat my indiscretion and one face-to-face shouting match, which included allusions to my impending death.

My landlady, who has handled the complaint with tittering trepidation, hasn't helped dispel the friction. She has told me to adhere to the demands because the man "could be dangerous," directing me to literally turn my back to the couple as they pass, never make eye contact and never hold the elevator for them, no matter what.
I don't think that's such a good idea, seems like if you do as your landlord suggests, it's likely that the next thing you know, CAIR will be up your ass for being islamophobic. Impending death sounds like a much better option.
I discussed my situation with the head of a prominent Muslim women's rights organization, who was understandably more concerned with the living conditions of the woman in question. She described the segregation of sexes as one of the worst examples of fundamentalist Islamic misinterpretation and dismissed the idea that my greeting could be construed as an offence.

Keep smiling, keep saying hello, she advised. The successful cohesion of cultures requires concessions from both sides.
Keep smiling, keep pushing him, oh, that's easy for her to say, after all it wasn't her life that was threatened, was it?
Offence or not, I have continued to greet those I share a building with, although the couple next door continue living in reclusion.
I guess that means you're saying hello to the good moslem doctor and his wife, even though he threatened your life, but oh, what heck, he probably didn't mean it anyways, they never do. He was probably just a little upset at the cultural differences, right? A little misunderstanding, just a heat of the moment thing. He's obviously an educated and intelligent man, a doctor even! I'm sure it will all work out.
Hey, why not say hello for me!
Isn't multiculturalism wonderful?
Posted by LindaSoG at 09:03 PM | Comments (1)
---
April 20, 2009
Today's Zionist Conspiracy
is none other than.... the Somali Pirates of the Red Sea!
Analysts are openly accusing Israel of sponsoring piracy off Somalia waters with the aim of transforming Red Sea into a Jewish lake. The immediate objective of USA, Israel and European countries is to prevent the inflow of arms to Islamist Al-Shabab that is on the verge of snatching power in Somalia and to steal Arab oil.
Of course the only "analyst" I could find openly making this ridiculous accusation is Asif Haroon Raja, the writer of this article titled "Rise of Islamists, and Sea-Piracy in Somalia." He is obviously an adherent to the "baffle them with bullshit" style of writing as it is used liberally throughout the article, but I found the concept of turning the Red Sea into a "Jewish Lake" very funny. Later, he manages to turn around and justify Israel's takeover quite neatly and nicely, leaving me to wonder if perhaps he might be Jewish.
I know this, Jewish or not, when it comes to pirates, the guy is almost as smart as Susie Madrak of Crooks and Liars, she would have us believe that "in the big picture, the Somali pirates are acting in self-defense."

Jewish Pirate Struts His Stuff on "Jewish Lake"
Posted by LindaSoG at 07:07 AM | Comments (3)
---
March 20, 2009
Today's Islamotard
was perhaps best known for comparing scantily clad women to uncovered meat, claiming they deserved to be raped for tempting innocent men. This is only his most recent escapade:
You see! It's true! You can always know when a moslem is lying because his lips will be moving. At least the putz is good for a laugh or two:
now, if you'll excuse me, I finally caught the flu that's been going around. The fever is up again and I'm headed back to bed.
Posted by LindaSoG at 09:03 AM | Comments (1)
---
March 12, 2009
Who dat?
Aussie Dave asks: Can you guess the profession of the Muslim Man islamotard holding the inflammatory sign against British troops in Iraq?
a) Proctologist
b) Standup comedian
c) Circus performer
d) Airport baggage handler
And the answer is...
Posted by LindaSoG at 09:48 PM | Comments (4)
---
March 10, 2009
What's that you say?
Hmph. Looks like your average Brit has about had enough.
It happened during a welcome home parade in Luton for the 2nd Battalion The Royal Anglian Regiment, known as the Poachers. They've toured Iraq twice in two years. As the soldiers reached Luton Town Hall... the small group of anti-war protestors led by moslems protesting the war... well... what do you suppose happens? Pay attention and you can hear it for yourself...
Yup. Them damm moslem bastards were calling the soldiers "babykillers" and "murderers." Reports were that they were also shouting out "terrorists" and "Anglian Soldiers Go to Hell." Signs said "Butchers of Basra."
So, turns out the soldiers didn't care for that too much, and in return, called them "scum" and shouted back "no surrender to the taleban." But that's to be expected from soldiers.
But what do you expect from the average Brit on the street? Well now. That you have to see for yourself:
Yup. The average Brit stood up for their troops and even got mad enough to run them moslem cowards right off the streets, make them go hide behind the police for protection, yowza! I tell ya, it just does the heart good.
That's quite the Welcome Home Soldiers. Your people did you right!
Posted by LindaSoG at 08:39 PM | Comments (7)
---
January 18, 2009
This is Fort Lauderdale
on January 15, 2009.
and once again, these are the people in my neighborhood, shouting "Go Go Hitler, he should have finished you off."
Yes, these are my neighbors, essentially calling for the killing of Jews on the streets of America. I can't dismiss this, no, I can't, so don't ask me to. Because when they call for the killing of Jews, they're talking about me, that's right, they're talking about killing me, my family, my loved ones, my people. No, I can't dismiss it, because one of those bastards looked mighty familiar, but I'm just not sure from where.
You know, I always say I live in paradise. Beautiful sunny South Florida. Sigh. I guess I can't say that anymore, because it looks like paradise is well on its way to becoming just another moslem shithole.
It might be time to move but where do I go?
P.S. before I forget, special thanks go to my friend Joe Kaufman of Americans Against Hate for taking the video, and sending it to me. AAH does good things. Support them if you can.
Posted by LindaSoG at 04:08 PM | Comments (11)
---
January 05, 2009
Home Sweet Home
in Gaza:
I guess I just didn't realize that innocent peace loving people always keep rockets and explosives hidden in secret compartments in the bathroom, and that doing such a thing is not only perfectly acceptable but in reality, it's just an indication of a how peaceful a person truly is. Silly me!
You have to admit though, it does have somewhat of a negative impact on property values.
Oh well.
Posted by LindaSoG at 07:35 PM | Comments (2)
---
January 01, 2009
This is America
Fort Lauderdale, Florida. Eighteen miles from my home. and yeah, I've been there, in fact, I used to work right around the corner.
Right here in beautiful Sunny South Florida, a young moslem woman, joined by three hundred other moslem and various American leftists, "peace activists," and obvious obama supporters, screams in the street for the mass murder of Jewish people, crying out for ovens, for Jews to be put into ovens, for Jewish people to be nuked, to be killed.
Make no mistake, that would be me she is talking about killing. She is calling out on the streets of South Florida for me to be killed, she is calling out on the streets of America to put me to death, to put my family to death, to put me and my family into an oven. There she stands, surrounded by several hundred others, all of them like minded, all of them wanting the same thing, for people to rise up, to kill the Jews, to put the Jews into an oven, to kill me and to kill my family. Such is the "beauty" of islam.
This woman is calling for my death. She is my neighbor, I could pass her on the street tomorrow or the next day or next week. She could be the woman next in line at the grocery store, or in the car behind me on the way to work, she could be at the lunch counter, or the dry cleaners, or the drug store, or the gas station, or anywhere, and she wants to kill me.
Good thing I'm armed, huh?
Posted by LindaSoG at 10:19 PM | Comments (11)
---
Now that's what I call propaganda
After years and years of rockets raining down on civilians in Israeli towns bordering Hamas controlled Gaza Strip, after years and years of Hamas bragging each time one of those rockets manages to do damage and Hamas celebrations when they manage to take a life and after years and years of continued threats of additional rockets to be shot into Israel from Hamas leadership, we get this...
Don't bother rubbing your eyes, you read that right. Hamas leadership is now attempting to claim that it was Israel that has ordered collaberators inside Gaza to shoot rockets into Israel in order to have an excuse to attack innocent Hamas and to kill innocent Palestinians who only wanted to keep the truce with Israel and have peace in the Middle East.
SIEGEL: But, wasn't the response of firing rockets into Israel…

Mr. YUSUF: There is no - actually, when we…

SIEGEL: Wasn't that guaranteed to bring on this retaliation by the Israelis?

Mr. YUSUF: No. No. This has nothing to do with firing rockets because there is no rockets fired. There are collaborators, sometimes they fire based on the Israeli asking them maybe to fire some of these home-made projectiles. They know that Hamas did their best to protect the border and not to let anybody firing rockets.

SIEGEL: But you're saying that when rockets have been fired out of Gaza, you're saying that those are being fired by Israeli collaborators whom the Israelis are arranging for them to do that, so that…

Mr. YUSUF: Actually, we all - let me try me to check if there is anybody actually - we check with those political and militant group who are really showing their commitment. And when we check, well, they - all them denied any of them been firing rockets. So, who been firing these rockets? We don't have an explanation except from those Israeli collaborators. So, we told them, we would like to keep this cease-fire and keep the - stop their aggression and also opening the gate. Hamas is willing to keep the cease-fire, and we are willing to extend it to another six months, but we need a commitment from the Israeli side.

Unfortunately, all the time they deceive the world community by claiming many things, and unfortunately, we are the people who really suffering, and this air strike they targeting everything, universities, mosques, schools, civilian home, residential areas, and also all the governmental building, which has nothing to do with these firing rockets as they keep claiming.

SIEGEL: The United Nations reported that, out of more than 300 Palestinian deaths, there were a little bit over 50 civilians. Does that mean that many Hamas gunmen and many Hamas officials have been killed in these Israeli strikes?

Mr. YUSUF: There are many people, actually, from the police force, because they targeting all the police station, which has nothing to do with all what they claim the firing rockets or anything of this. This is the police force who tried to keep the state of security, enforcing the state of law. And this kind of aggression is against international law. It is a crime against humanity.
I just can't stand that my tax dollars goes to support NPR and they use it to promote terrorist propaganda like this. It horrifies me to know that somewhere out there, there are idiots sitting at their kitchen table, fermenting the kind of hatred in their hearts for Jews that prompts them to go out into the streets of America and burn down synagogues, paint swastikas on Yeshivas and beat innocent Jewish people in the streets.
Just the other day, an elderly woman on Miami Beach first admired the Star of David I wear on a chain around my neck and then kindly suggested that I put it under my shirt, because perhaps it is not a such good time to be wearing it. I told her I understood how she felt, and not to worry, I was just sorry it was so small. She reminded me of my Grandmother, who worried about such things back in Brooklyn when I was growing up.
Thanks to media outlets like the NPR, who are more than happy to promote terrorist propaganda and to present Israel in the worst possible way, there is violence against Jews in America, and ignorant idiots stand side by side in support of terrorists and promote genocide and murder in the streets of America.
It sounds outrageous, yes, I know, but if you read arabic, you would see for yourself the truth in that statement, and now, thanks to a post found At the back of the hill, you can see the truth in that statement:
You would see your fellow Americans, you would see your friends, and your neighbors standing with people holding signs, perhaps even holding signs themselves, signs that say things like "Palestine will be free, from the river to the sea" - which frankly states the intent to destroy the Jewish state and ethnically cleanse the land of Jews. That my friends, is genocide. If that wasn't bad enough well, you might see them with signs that say "Falastin balad'na w'al Yahud qalab'na" which translates to say "Palestine is our land and the Jews are our dogs." Is that something you agree with? No? Maybe you might agree with "ba ruh, ba dam, nafdeek ya Falastin" which translates to say "with our soul, with our blood, we will cleanse you oh Palestine." Now, that's something every American can agree with, yes? With your soul and your blood, you will cleanse Palestine of Jews.
Then again, there is the standard "Itbach al Yahud" which translates to say "slaughter the Jews." Slaughter, now, you know what that means, don't you? And of course, "al mawt al Yahud" which translates to say "death to the Jews." Another fine sentiment for the streets of America, perhaps part of the American dream?
This is what you see on the streets of America, and it's not something that has appeared overnight. I saw it in 2006, when Americans held up signs that said "We are all Hezbollah" in support of the same brand of terrorism as Hamas, different name, same terror.
As I said in my comment over At the Back of the Hill, violence against Jews in America is not new, and it did not begin all of a sudden with this latest Operation against the Hamas.
Just last month, a young man with three children was beaten in the streets of Bal Harbour, Florida, only a few miles from my home, for the crime of being Jewish. He was attacked only because he was wearing kippot.
Broken glass was placed in a Yeshiva playground sandbox in Philadelphia back in June of 2008. In May of 2008, they painted swastikas on a Parkland Florida Synagogue.
The Holocaust Memorial in SanFran was defaced this month, but it has been defaced before the Israelis began this operation.
Swastikas were drawn on a sidewalk and the walls of a Yeshiva in my neighborhood over this past summer and a Chabad House on Miami Beach was gutted by arson last year.
So. The terrorists shoot their rockets into Israel and I am always telling my friends who live there how worried I am for them, that they are surrounded by people who hate them. And they say, But not everyone, not everyone hates us, and we love each other.
And these attacks happen here, like the one in Bal Harbour, and my friends, they say to me, Linda, we are so worried about you living there in Miami where these terrible attacks on Jews are happening. They say to me, "You are surrounded by people who hate you." And I say to them, but not everyone hates us, and we love each other.
Am Yisrael Chai. We live. Here, and there. We live.
Finally, to all of you people out there protesting the Israeli rockets being shot into Gaza, if you feel a need to defend yourself and your support of terrorism and genocide of Jews on the streets of America, before you do so here, you must first answer one question, where have you been for all of these past years while thousands of rockets have been shot from Gaza into Israel?
I ask because I have not seen you on the street with your signs, protesting the terrorist acts aimed at innocent Israeli civilians, I have not seen you protesting Hamas rockets aimed directly at homes and schools and playgrounds and cities and towns. I have not heard your cries of outrage, your demands for sanctions or for international action. In fact, the rockets have been falling in Israeli towns for years and I have heard nothing from you about it.
But even worse, rather than hearing you say "stop the genocide of Jews," instead, I have seen you on the streets of America holding signs promoting the genocide of Jews, so before you say anything at all in my comments, first answer that question, because without a straight, honest and forthright explanation as to your actions, you have no moral standing to say anything at all about anything at all.

Posted by LindaSoG at 09:50 AM | Comments (3)
---
August 22, 2008
Today's Islamotard
Moslem eaten by crocodile while offering blessing at Moslem Shrine:
A CROCODILE killed and ate a 25-year-old man in Bangladesh after he waded into a pond next to a shrine hoping to be blessed by the animal, police say.

Inspector Humayun Kabir said Rubel Sheikh and his mother travelled 50km from their home to visit the Muslim Khan Jahan Ali shrine, where the attack happened.

Kabir said hundreds of people visit the shrine every day to offer hens and goats to the five crocodiles living in the pond. Part of the ritual involves bathing in the water.

"He went into the pond hoping to be blessed when a crocodile attacked him and dragged him into the deep part of the pond,'' Kabir said.

"This is a very unusual incident. Normally, the crocodiles are very friendly and do not harm people.''
Kabir said about 25 people dived into the pond following the attack yesterday, but could not find the man's body.

It washed ashore today and had been largely eaten, he said.
The article stops short at identifying the man as a moslem but really, who else but a moslem would worship at a moslem shrine? And, the article doesn't seem to want to mention islam either, but, we all know that by definition, a moslem is "an adherent to islam."
This is moslem shrine, of course, so this man is a follower of mohammed, the prophet of doom and the cult of islam. He traveled to a moslem shrine to make an offering to the shrine's crocodile and to seek its blessing. Instead of receiving a blessing by the killer crocodile, he was largely eaten by the killer crocodile. Oh well.
Such is the cult of islam.
Posted by LindaSoG at 01:25 PM | Comments (7)
---
July 15, 2008
Islamotards on Parade
and even today, they listen...
Sanaa, 11 July (AKI) - Camel urine, considered an ancient Islamic 'remedy' from the time of the Prophet Mohammed, has become big business for men and women in Yemen.

The urine has become fashionable recently among Yemen's young people, who claim that it strengthens the scalp, slows hair loss and promotes healthy hair.

According to the Arab TV network al-Arabiya, hair salons throughout the country are requesting this precious 'tonic' and selling it at four dollars a litre - a high price considering the income level of most of the buyers.
Thanks to He who drives the bus for the news story.... love ya Gus!
Posted by LindaSoG at 09:09 PM | Comments (5)
---
June 22, 2008
Epic Fail!
Ohfercryinoutloud!
Hey dumbass... you missed! But what the heck, set it to music, even slow it down so we can see how inept you really are, and load it up on the internet so we can laugh at you.
That's islam for ya! Hide in a corner, attack from behind, fail miserably, run away and then brag about it later.
Posted by LindaSoG at 09:54 AM | Comments (2)
---
May 22, 2008
Move along...
A Muslim convert was being held tonight after two bombs were found in a family restaurant toilet following an explosion at lunchtime.

Police and bomb disposal teams were called in after a young white man apparently attempted to detonate a nail bomb.

Diners heard three blasts which sounded like gunshots go off in a toilet at the Giraffe cafe in Exeter city centre as they were having lunch today.

Eyewitnesses said officers had to break down the cubicle door because the 22-year-old refused to come out.

When he emerged, wearing jeans and a dark t-shirt, blood was running down his face and all over his clothes.

He was arrested at the scene and taken to hospital, where he is under armed guard, for treatment to a severely lacerated eye and facial burns. None of the customers or 15 staff at the restaurant was hurt.

There were claims the suspect was a Muslim convert and detectives are now trying to determine whether he has links to Islamic extremism.

Devon and Cornwall police refused to say what offence he was being held on suspicion of but sources close to the inquiry now fear the man was arming a bomb when part of it blew up in his face.

Police revealed that a second device had been found nearby.

Police forensic teams are believed to have recovered one or two canisters of sodium-based home made explosive either from the toilet or outside the restaurant.
Remember... there is no terrorist threat.
Posted by LindaSoG at 07:18 PM | Comments (3)
---
March 31, 2008
Double Tap!
An Israeli citizen shot dead a Palestinian man who attempted to stab people standing at a hitchhikers station near the West Bank settlement of Shiloh on Monday evening:
"An Ofra resident, in his thirties, returned from his workplace in (the settlement of) Itamar, got off at the Shiloh hitchhikers' station, where a 16-year-old boy was standing. Shortly afterwards, they were approached by the terrorist, who began talking to them in broken English, mixed with Hebrew and Arabic. He seemed nervous, put his hand into his shirt between the buttons, pulled out a knife and shouted, 'Allah Akbar' (God is great).

"The Ofra resident pulled out his weapon, fired two bullets, and the terrorist fell on the floor. Security and medical forces were dispatched to the area and tended to the terrorist, but eventually proclaimed him dead."
Now that's what I call gun control.

Posted by LindaSoG at 08:31 PM | Comments (3)
---
March 17, 2008
Iranian Justice Seeking Students
want your kidneys "for the cause":
TEHRAN (AFP) — Iranian hardline students have offered rewards totalling a million dollars for the "execution" of three Israeli military leaders over the deadly strikes on Gaza, the student news agency ISNA reported on Monday.

The group is even encouraging Iranians to donate their kidneys to increase the bounties on the heads of Israeli Defence Minister Ehud Barak, Mossad spy agency director Meir Dagan and military intelligence chief Amos Yadlin.

The rewards were announced by the Justice Seeking Students Group on Sunday at a ceremony in Tehran entitled "setting the bounty for the revolutionary execution of the designers of state terrorism," ISNA said.

The bounty for Barak is set at 400,000 dollars while those for Dagan and Yadlin are 300,000 each, the report said. It is not clear where the money is coming from.

"These sums will be given to any person or their families who could punish these individuals in any part of the world," the organisers of the event announced.

Pictures taken at the ceremony showed a banner bearing pictures of the three Israelis against the backdrop of an Israeli flag, with rifle sights stencilled onto the foreheads of the trio.

"Israel must be wiped off the map," read a quote from Iran's revolutionary leader Ayatollah Ruhollah Khomeini printed on the top of the banner.

The event in Tehran was concluded by organisers distributing application forms for volunteers to donate kidneys to increase the bounties for the three men.

"This is one of the very good moves that shows we are ready to sacrifice our own health to support Palestinians and annihilate the heads of the Zionist regime," one of the event's organisers, Forouz Rajaifar, was quoted as saying.
Sheesh. Are the organizers donating their own kidneys?
Why not do the world a favor and just set each other on fire in protest?
Posted by LindaSoG at 01:28 PM | Comments (7)
---
March 16, 2008
Get 'em before they're gone
For sale in Italy, the "Koranic Toilet":
Latina and London, 14 Nov. (AKI) - A campaign launched by an imam in central Italy and other local Muslims against a toilet seat featuring verses of the Koran has made it to the frontpage of London-based Arabic daily Al-Quds al-Arabi.

"Uproar in Italy over the 'Koranic' toilet seat cover," screamed a banner headline in the paper - one of the best-selling in the Middle East.
"This is an insult to the Muslim faith that we must react to," -- The imam of the mosque in the town of Latina in the central Italian region of Lazio, Sheikh Yusuf.
and...
"I would like to tell our friends from Latina that we have been informed of this matter and are taking action because it is offensive." -- interior minister Giuliano Amato

... according to local Italian media, a special investigative unit of the police had already begun probing the issue several days before Yusuf's verbal protest to Amato in Rome last month and seized 212 'Koranic' toilet seats from five supermarkets in the area, where they were on sale at 15 euros a piece.
Only 15 euros? I'd buy one at twice the price!
Posted by LindaSoG at 07:12 AM | Comments (5)
---
February 24, 2008
The Hungry Hippo
OVERWEIGHT preacher of hate Abu Hamza has given prison officials a list of demands after telling his lawyer: "I'm starving in here."
Hamza, 49, who weighs about 20 stone, has told jail chiefs he wants more and better food, extra phone time and an end to constant strip searches.
The former imam of Finsbury Park Mosque in north London, who is fighting extradition to the US, also objects to squatting during searches as it contravenes Islamic law.
Hamza, who has hooks after losing both hands, is serving seven years at Belmarsh prison in south London for soliciting the murder of non-Muslims and inciting racial hatred.
Inmates of the category A jail, which houses some of Britain's most dangerous prisoners, have branded Hamza the "Hungry Hippo" because of his vast bulk. A prison insider said: "It was a label which instantly stuck – he's a big man and everyone knows him for wearing that grey outfit. When word got round that he was moaning about being hungry, it seemed an obvious title."
-------
Twenty stone is about 280 pounds, sheesh! The fat bastard could certainly stand to miss a few meals, but what the heck, let's send him some food:
Posted by LindaSoG at 12:43 PM | Comments (7)
---
February 15, 2008
The Village People
are surely deeply saddened by this news:
A band of 14 masked gunmen forced its way into YMCA offices in the Gaza Strip and exploded a library there, Israel Radio reported Friday.

Thousands of books were reportedly burnt in the ensuing fire. The YMCA in Gaza also operates a gym and a wedding hall.

The gunmen laid a second explosive device near a computer in the library but it failed to detonate. Two security guards on the scene were not able to block the intruders; they were taken by them from the YMCA and later released in the northern Gaza Strip.

The latest incident is another link in an ongoing chain of attacks against Palestinian Christians which has worsened since Hamas took power of the Gaza Strip last June.

However, Christians in the West Bank were not faring much better and the Christian population in both territories has been continually dwindling.
The article goes on to report:
The Palestinian Christian population has dipped to 1.5% of the West Bank and Gaza Strip, down from at least 15% a half century ago, according to some estimates. No city in the Holy Land is more indicative of the Christian exodus than Bethlehem, which fell under full Palestinian control last decade as part of the Oslo Accords. The town of 30,000 is now less than 20% Christian, after decades during which Christians were the majority. Elsewhere in the PA territories, only about 3,000 Christians, mostly Greek Orthodox, live in the Hamas-run Gaza Strip, among a strongly conservative Muslim population of 1.4 million.
and the world wants to give Jerusalem to these savage animals.

Posted by LindaSoG at 01:37 PM | Comments (2)
---
When the Man Comes Around
Amen! and Thank you Mike, for this, and for all you do!
Posted by LindaSoG at 12:01 AM | Comments (2)
---
January 18, 2008
Celebrating Islamic Style
Oh yes, Its that time of year, again, when the peaceful followers of peaceful Islam take some time off from peaceful rioting, burning, pillaging, beheading infidels, killing Jews and killing each other in the name of their peaceful g0d to peacefully celebrate the peaceful holy islamic holiday of Ashura.
In order to participate, you will need a sharp sword and metal chains to flagellate yourself in this unique Religion of Peace ceremony. You will also need white robes to show off the blood and gore to your fellow celebrants. Children, horses and yes, even sheep are expected to participate.
Some of you may be horrified to see these pictures but you are urged to remember that this is but one more way to worship the Prophet of Doom a/k/a Allah, and despite appearances to the contrary, this is a religion and not a cult. In fact, it is "The Religion of Peace."
Therefore, this type of behavior is not to be considered abuse, even when it is children who are being beaten and bloodied with swords and chains.
Remember, there's no crying allowed.
So shut up and enjoy the show. You might as well get used to these images, after all, if the left has its way, you will soon be able to view these things first hand in the streets of America. In fact, you will probably be expected to participate, that is, of course, if you would like to keep your head.
Ah yes. These photos really capture the spiritual side of islam:
Feel like praying yet? I do. I'm praying for an end to the kind of evil that could do something like this:
The origins of Ashura: When the Omayyad Moslem army arrived at Karbala, Ali, the last blood relative of Mohammed found that his cowardly army had deserted him. He rode out with about 30 of his closest followers, and they were slaughtered. Muslims flaggelate and mutilate themselves on the each anniversary of his death to show remorse for deserting him before the battle.
Posted by LindaSoG at 10:27 AM | Comments (7)
---
January 08, 2008
Oh those evil Jews!
Lesbianism is now a weapon of war:
Religious scholars in Egypt are outraged by a lesbian scene in a new movie, telling audiences to stay away from the sinful flick and calling for the director and actresses to be prosecuted.

Preacher and Islamic Studies professor at Cairo University, Dr. Abdel-Sabour Shahin accused the new movie, Hina Maysara (Until Further Notice), of spreading homosexuality and promoting debauchery.

He called on authorities to prosecute the director of the movie and the two actresses, Ghada Abdel-Razeq and Sumaya Al-Khashab, who enacted the lesbian encounter on the big screen.


Ghada Abdel-Razeq (L) and Sumaya Al-Khashab (R)

Shahin claimed the movie is part of "a Zionist and American conspiracy" which uses this sort of movie to destroy the moral fabric of society.
Quote of the day:
Professor of Islamic Law at Al-Azhar Elwi Amin said watching sex scenes -- whether gay or heterosexual -- in movies is considered a sin. Amin claimed there is no lesbianism in Egypt and said there would never be.
I just love a good conspiracy, don't you?
Posted by LindaSoG at 11:58 AM | Comments (1)
---
January 07, 2008
Islamotard Rumor of the Day
I divorce you! *flush*
I divorce you! *flush*
I divorce you! *flush*
Dusseldorf (dpa) - German police are hunting a housewife on murder charges after she allegedly told her children she had flushed their father down the toilet.

The man, a taxi-driver, vanished three weeks ago. Police in the western city of Dusseldorf believe the wife, 52, chopped him up and disposed of 100 kilograms of body parts in garbage bins and down the toilet.

The Muslim couple hated one another.

After her adult children asked where he was, she replied: ``You'll never find him. I've put him down the loo.''

Neighbours said the toilet had been flushed constantly on the night he disappeared.

The woman left Germany and was last seen in her native Macedonia, according to the police.

German police will issue an international warrant for her arrest, but are aware that Macedonia does not extradite its own citizens.

Police scientists said the couple's apartment had been energetically cleaned and repainted, but using disclosing solutions they found bloodstains in the living room, hall and bathroom. Experts are to search the sewer next.

Police voiced amazement that the husband, 58, had never reported her previous attempts to poison him or the time she seriously injured him with a hammer.
Hmph. Another marriage down the toilet...
Posted by LindaSoG at 01:36 PM | Comments (7)
---
I call this one
Mohammed looking for love...
Rumor has it that baaa means no, but I guess he don't speak their language.
Posted by LindaSoG at 11:34 AM | Comments (5)
---
January 05, 2008
867-5309
Hmmmm... now where have I heard that number before?
LEWISTON (NEWS CENTER) -- Members of the Somali community in Lewiston say a poster put up in front of a local Somali owned store is an insult to their religion.
The poster depicts a vicious "lost" dog named Mohammed. That's the name of the Muslim prophet. It says that the dog is not good with children and can't be trusted.
Hussein Ahmed, the owner of the store, says the phone number on the poster is fake and that the only place it was put up was right near his business.
"This is really a religious statement," said Hussein Ahmed, "that is an attack on our religion which we don't feel comfortable with. We see this as a very bad insulting situation."
-----
Of course it's insulting, anyone know where I can lodge a complaint on behalf of Rottweillers? Poor thing, no wonder he's mean, being named after the prophet of doom.
Why are you in my country? Go home Ahmed.
Posted by LindaSoG at 06:25 PM | Comments (8)
---
January 02, 2008
Coming soon to a neighborhood near you
IRVING, Texas — Police continued searching for a man suspected of shooting his two teenage daughters, including one who called 911 about an hour before officers found them dead in his taxi, police said.

Yaser Abdel Said, 50, of the Dallas suburb of Lewisville, is accused of shooting Sarah Yaser Said, 17, and Amina Yaser Said, 18, in his taxi Tuesday night and abandoning it in a parking lot, leaving them to die.

One of the teens called 911 on a cell phone about 7:30 p.m. Tuesday and said she was shot, but she couldn't tell police where she was, Irving police said.
He shot, then he left them to die.
Posted by LindaSoG at 08:12 PM | Comments (5)
---
January 01, 2008
Don't shave me Bro!
Before:
Oh the humanity!
Posted by LindaSoG at 06:35 PM
---
December 27, 2007
Reason # 576938172
How will the six volunteers cope with living according to the laws of the Qur'an?
Not very well at all:
The process starts with a sweep of the group's homes for items that are haram – forbidden by Islam – such as alcohol, pork, inappropriate clothing, lads' mags… The next stage is to add a schedule of praying five times a day. The rebellion begins almost immediately. Taxi driver Phil retreats to his local pub for pork pies and beer; others object to the rigid dress codes and say that they disagree with many aspects of the faith.
mmmm. Beer!
To Ajmal's disappointment, only three turn up for Friday prayers at the end of the first week.
It didn't get much better on retreat:
Back in Harrogate, the women had resisted the Muslim tradition of modest dress. At the retreat, though, mentor Dawn insists that this rule is obeyed. Glamour model Kerry feels so oppressed by the clothing that she decides to quit. With a little give and take, though, Ajmal persuades her to stay.

Many of the other women respond by rebelling against the whole regime: they stash illicit supplies of scotch eggs, crisps, sweets and portable DVD players in their dormitory.
No word on whether the group converted, no word on whether they didn't. It doesn't appear that anyone suffered the true effects of Sharia law, presumably they were not flogged on public television for their lapses into the evil alchohol and their failure to cover themselves with a sheet. No one was crucified or hanged or mutilated, everyone retained their heads. So. I guess Britian isn't really ready for reality TV.
Will Britian's Channel Four have a special next month... "Make me a Christian" or even "Make a Buddist?"
My guess would be.... no.
Posted by LindaSoG at 07:26 AM | Comments (6)
---
December 23, 2007
*Snort*
Potfry does it again...
and...
Hat tip to Theodore's World
Posted by LindaSoG at 09:51 AM | Comments (6)
---
December 19, 2007
This just in
from the Religion of Peace:
You won't see that reported on CNN.
Posted by LindaSoG at 05:50 PM | Comments (4)
---
November 16, 2007
Dark Prince of Islam Redux
The best kept non-secret of Britain's Royal Family used to be their animosity towards the Jewish people and the State of Israel. They try to bury it, but as my father used to say... shit floats:
Senior aides to Britain's Prince Charles said there is "no chance" the prince would ever visit Israel as such a visit would boost Israel's international image. The aides wrote the comments, in August e-mails, after outgoing Israeli ambassador to Britain Zvi Heifetz extended an invitation to the prince via principal private secretary Sir Michael Peat and deputy private secretary Clive Alderton.

In e-mails to be published today in London by The Jewish Chronicle, Peat politely thanked Heifetz and said the prince "would love to come." However, in a later e-mail Alderton sent to Peat, he complained that he was "being pursued."

Alderton asked is it "safe to assume there is no chance of this visit ever actually happening?" Alderton noted, "Acceptance would make it hard to avoid the many ways in which Israel would want HRH [Prince Charles] to help burnish its international image. In which case, let's agree a way to lower its expectations."
Now... the best kept non-secret of the British Royal Family is its admiration and adulation of islam:
ISLAMABAD, Oct 31 (KUNA) -- Prince Charles Tuesday said that the world problems could be resolve by following Islamic teachings, as Islam is a religion of peace and brotherhood.

He said that clash of civilizations could be averted by following the teaching of Islam and Quraan.
This is, of course, the same Prince Charles who received an Oxford Centre for Islamic Studies Award in 2005 for his contribution to understanding Islam, and who traveled to America, to defend and promote Islam, and to encourage America to "share his fondness for Islam."

Prince Charles, Champion of Islam
The Prince wants us to "share his fondness for Islam?" Yeah well, piss off Prince. I have no fondness for terrorists and I have no desire to revert to the 7th century either.
Let me tell you what terrorism is.
Terrorism is the the systematic use of terror as a means of coercion, the use of violence (as bombing) committed by groups in order to intimidate a population or government into granting their demands.
Prince Charles obviously views terrorists as "freedom fighters" and/or "militants" fighting oppression. Well Prince, why don't you tell that to the children of Beslan. Tell that to the teenagers in Israel blown up in a disco or a pizza parlor. Tell that to the 2,996 who died on 9/11, and the hundreds killed on a train in Spain. Tell that to the hundreds of Iraqis who were blown up in the street this year, oh, and the hundreds of your countrymen who died in the name of Islam.
The United States of America has done more to promote freedom throughout the world than any other country. We have sacrificed more and given more of ourselves, our people, our money and our time to stand up for freedom throughout the world. We will continue to do so, and we will never share your "fondness" for the monsters who killed those children in Beslan, who blew up the trains in Spain, who bomb pizzarias and buses in Israel, who flew planes into the WTC, and yes, who blew up your countrymen on July 11, 2005. These are the same people who are blowing up innocent Iraqis even as they try to rebuild their lives after Saddam.
Albert Einstein once said: "The world is a dangerous place to live; not because of the people who are evil, but because of the people who don't do anything about it."
The world is a dangerous place also because of the people who don't do evil but who make it easier for others to do it.
And that includes you Prince Charles, that includes you.
Posted by LindaSoG at 06:57 AM | Comments (4)
---
November 13, 2007
Meet Samina Malik
a/k/a the Lyrical Terrorist:
Samina Malik, who liked to call herself a "lyrical terrorist", called for attacks on the West and described "poisoned bullets" capable of killing an entire street in her poetry.
The 23-year-old Muslim wrote of her desire to become a martyr and listed her favourite videos as the "beheading ones".
Described as a "committed Islamic extremist", Malik, a shop assistant at Heathrow, hoarded an extensive collection of terrorism manuals, the Old Bailey heard.
She was a member of an extremist group linked to Omar Bakri Mohammed, a hate preacher who fled to Lebanon from Britain two years ago.
Yesterday a jury found her guilty of possessing documents likely to be used for terrorism under the Terrorism Act 2000, by a majority of ten to one, after deliberating for 19 hours.
Malik, who wore a black head scarf, wept as the verdict was read out.
Jonathan Sharp, prosecuting, told the court the defendant liked to be known as the "lyrical terrorist" or "a stranger awaiting martyrdom".
"She is a committed Islamic extremist, who supports terrorism and terrorists.
"She had a library of material that she had collected for terrorist purposes.
"That collection would be extremely useful for someone planning terrorist activity."
The court heard how police raided her home in Southall, West London, after an email from her was found on the computer of a terror suspect in October last year.
She had a profile on the social networking website Hi-5, where she called for the execution of "depraved" Westerners .
The British-born Muslim listed her interests as helping the Mujahideen "in any way I can".
She also wrote of how she enjoyed video messages from Osama Bin Laden and "videos that showed massacres of the kuffars", or non-Muslims.
Just another moderate moslem, and remember... there is no terrorist threat. I'm sure you'll be glad to know that after she was found guilty, Judge Peter Beaumont told Malik that she was an enigma and then, he set her free on bail pending sentencing.
Nothing to see here but a really lousy poet, eh?
Posted by LindaSoG at 06:09 AM | Comments (8)
---
November 06, 2007
The Tide is High
In Hamastan, next up... a tsunami of waste:
UMM AL NASSER, Gaza, Oct. 30 — Fahmi al-Abrak, 70, was at home on March 27 when a lagoon of human waste broke through its sand embankment and hurtled downhill, inundating this poor village of Bedouins in northern Gaza. "It rose to here in 15 seconds," he said, pointing to a discolored line on the walls, four feet above ground.

Five people died, drowned in the wave of waste, along with scores of goats, sheep and chickens. Nearly 1,000 people had to be taken out of the village. Now, Mr. Abrak said, "I'm afraid to go to sleep at night."
and now... they expect it to happen again:
That lake, which itself holds sewage overflow, now contains almost four million cubic yards of water and human waste, covering about 100 acres, and it is again creeping close to the danger point. Its sand embankment was reinforced this summer, and two more outlet ponds have been dug in the sand. But more waste enters daily than is discharged, the lake is only six feet below the embankment and the winter rains are coming.
The fault of course lies with Israel:
Israel has declared Gaza "hostile territory" and is sharply limiting the kinds of goods allowed in.

The restrictions cover many ordinary items not considered essential to human life. But they also cover things like metal pipes, welding machines and the wire used to refurbish electric motors — things that Israel believes could have secondary use by the Hamas administration and the Palestinian gunmen who fire rockets toward nearby Israeli towns like Sderot.
Of course, its the fault of that damn Israeli government, always trying to keep its citizens from being slaughtered in the streets by arabs. Truly, what is so hostile about a people whose single goal is to kill others, to blow up schools and pizzarias and busses? What is so hostile about busting into homes in the middle of the night and shooting children as they lie asleep in their beds? Those damn Israelis! How dare they object to the building of pipe bombs and rocket launchers, how dare they object to rockets raining down on civilian communities, schools, homes? How dare they deny the palestinians the materials and the ways and means to kill?
Its all the fault of the Jews! or... is it?
... the level of the lake was one problem, and the rain's effect on the sand embankment was another.

... the pumps have been moved to the teeming city of Khan Yunis, where another sewage disaster is threatening. Trying to save money, residents there hooked their sewer pipes to a system to catch rainwater and have filled it with waste, creating a sludge that blocks drainage. With the coming rains, that system threatens to overflow, forcing sewage back into homes and businesses and polluting the aquifer and the wells that supply most drinking water.

A Japanese project for repairs at Khan Yunis was suspended when Hamas won Palestinian elections in 2006.

Even before this latest crisis, a World Bank project to replace the northern facility and drain the lake into nine new treatment ponds was delayed for nearly two years. The area had suffered from warfare with Israel, internal Palestinian clashes, strikes by workers and other problems.
But here's the real reason that Gaza was flooded with human waste:
The lagoon broke in March, he said, "because there is no security there and people were stealing the sand."
"A tsumani of waste" is perhaps the perfect metaphor for the palestinian people, who have brought their "suffering" upon themselves, by their own actions. They create nothing, and destroy everything they get their hands on. They have sacrificed everything they have and everything they might ever have In the pursuit of their goal to kill the Jews. Let them reap what they have sown, they'll get no sympathy from me, not when the simple solution is to stop shooting rockets, stop bombing innocent people, stop the murder and mayhem and chaos and destruction.
If they stopped sending their children into Israel with bombs strapped around their waist, well, maybe the checkpoints would be eased, maybe they could enter Israel proper and get jobs, and be a part of humanity. If they stopped raining rockets down on civilians, if they stopped building rockets and rocket launchers, maybe then they would get materials to build their cities. If they would teach their children to read and write, to think instead of to kill and maim and destroy, maybe they could arise from the pool of shit they wallow in and become part of the human race. But no, palestinians have their priorities and if the end result is that they wallow in shit because of their own actions, well, its only just and right.
I prefer to think of it a plague upon them.
Water utility official Mr. Shoblak put it differently. "How many Palestinians need to drown?" he asked.
And here's where I'll shut up.
------------
UPDATE: Its Israel to the rescue, once again.
Posted by LindaSoG at 06:25 AM | Comments (4)
---
October 21, 2007
Get your foot off the gas
Or you might arrested for racist revving...
UK: Jail Time for Revving Engine in a Racist Manner

A motorist in Scotland, UK is fined $238 and sent to jail for two days for the crime of revving his Lotus Esprit in a racist manner.

Scottish motorist Ronnie Hutton, 49, was jailed for two days for the crime of "revving his car in a racist manner" last September. After waiting more than a year to try the case, the Stirling Sheriff court finally convicted Hutton last week of breach of the peace and fined him £150 (US $282).

An off duty officer, Chief Inspector Eoin Jenkins, said Hutton had revved the engine of his Lotus Esprit near two Muslims last year. After Hutton dismissed Jenkins' concern with an expletive, Jenkins immediately dispatched two police officers to Hutton's home where he was taken and thrown in jail for two days without formal charges. Hutton explained that his revving had nothing to do with nearby pedestrians, rather, he was keeping his temperamental and expensive V8 engine from stalling and being damaged.

"To be convicted for revving my car in a busy street is hard to take," Hutton told the Sunday Mail newspaper. "Does this mean anyone driving a noisy car in Scotland is now a criminal?"

Asked in court why the man may have revved his engine, Hana Saad, 23, said through an interpreter, "Maybe because we are Muslim."
Amazing.

Posted by LindaSoG at 10:35 AM | Comments (4)
---
October 17, 2007
Today's Islamotard Moment
H/T: IsraellyCool
Posted by LindaSoG at 07:19 PM | Comments (3)
---
September 18, 2007
Meet Dr. Butt
UK dentist and yes, another moderate moslem:
A muslim dentist made a woman wear Islamic dress as the price of accepting her as an NHS patient, it is alleged. Omer Butt is said to have told the patient that unless she wore a headscarf she would have to find another practice. the 31-year-old dentist asked to speak to the woman in private after she turned up for an appointment at his clinic in Bury.

According to the charges, he questioned her on whether she was a Muslim and told her that if he was to treat her she would have to wear Islamic dress.

He is also said to have read out a number of religious rules to her.

He then told his nurse to give the patient her own headscarf to wear, the accusation says.
No word on whether the patient complied with the good doctor's demands. I guess it would depend on how long she had to wait for that appointment under Britain's NHS and how bad the toothache really was. After all, beggars can't be choosers.
BTW... besides being an islamofascist, Dr. Butt also has the distinction of being the older brother of former Islamic extremist Hassan Butt, who once declared he had 'no problem' with terror attacks on Britain and who said that September 11 "served the pleasure of Allah."
Posted by LindaSoG at 07:02 AM | Comments (2)
---
August 25, 2007
A tempest in a teapot
So... tomorrow's Opus has "been withheld from publication by a large number of client newspapers across the country, including Opus' host paper The Washington Post." The reason? Making jokes about Islam.
And just the week before, Opus was thoroughly ridiculing the late Jerry Falwell but that's okay.
Anyways, without further ado, click below for the full, complete, uncensored and banned comic which will be released tomorrow in Salon.com. Yep, you read that right, I got it early.
Rather mild if you ask me, and certainly not worthy of the fuss.
Posted by LindaSoG at 09:41 PM | Comments (2)
---
August 16, 2007
This just in
From the Netherlands:
AMSTERDAM - A Roman Catholic Bishop in the Netherlands has proposed people of all faiths refer to God as Allah to foster understanding, stoking an already heated debate on religious tolerance in a country with one million Muslims.

"Allah is a very beautiful word for God. Shouldn't we all say that from now on we will name God Allah? ... What does God care what we call him? It is our problem."

A survey in the Netherlands' biggest-selling newspaper De Telegraaf on Wednesday found 92 percent of the more than 4,000 people polled disagreed with the bishop's view, which also drew ridicule.
Good thing he's about to retire, sounds like he's going senile.
Posted by LindaSoG at 06:01 AM | Comments (3)
---
August 13, 2007
Ooops
No virgins for you!
RABAT (Reuters) - A suspected radical Islamist tried to blow up himself near a bus carrying tourists in the Moroccan city of Meknes on Monday but he detonated the gas cylinder he was carrying before reaching it, police sources said.

"The gas cylinder exploded some metres (yards) from the bus and badly injured the attacker," said one police source.

Another source said authorities suspected the bomber was a member of the radical Islamist Jihadia group.
Too bad he's still alive, but, on the bright side, hopefully he's in a lot of pain.

Posted by LindaSoG at 07:36 PM | Comments (5)
---
August 09, 2007
The Somali Bridge Collapse
Allowing such a thing to happen is just another insult to moslems:
"Instead of building bridges, they spent more on invading countries," said Abbi Osman, a young Somali who came to Minnesota four years ago and was watching buddies play dominoes Tuesday in a Somali coffee shop. "They are investing in the wrong places."

The collapse too adds to uneasy feelings among Somalis who say they have felt a federal backlash since Sept. 11, 2001 not only because of their Muslim faith but also because Somalia has been accused of harboring terrorists associated with Osama bin Laden. The bridge collapse has added jitters for Somalis who in recent years regrouped and rallied around one another.

For Somalis, who have migrated here in the last decade, the bridge was a vital lifeline connecting an established community on one side of the river with a growing Somali neighborhood on the other. Sometimes locals jokingly referred to it as "the Somali Bridge" – a lifeline for the 40,000 to 50,000 Somalis estimated by community leaders to be living in the Twin Cities and their suburbs

Somali cabbies used it. So did Somali truck drivers. At least two Somali drivers were on the bridge when it collapsed and got out alive. So did at least four Somali children who were on a school bus that fell downward in the disaster.
Sigh. There can be no doubt that the collapse of the "Somali Bridge" is the fault of George W. Bush and the part of the vast conspiracy to oppress moslems.
Posted by LindaSoG at 06:59 AM
---
July 11, 2007
I hope it hurts
Leave it to the AP to insert the word "allegedly" in there... as if they didn't pull him out of the burning vehicle.
EDINBURGH, Scotland (AP) -- A suspect in the failed terror attack on Scotland's busiest airport was unlikely to survive his severe burn injuries, a doctor who treated him said Tuesday.

Khalid Ahmed, 27, is in a Scottish hospital with burns suffered after allegedly crashing a Jeep Cherokee into the Glasgow airport a day after police found two unexploded car bombs in central London.

"The prognosis is not good and he is not likely to survive," a member of the medical team that treated him at the Royal Alexandra Hospital near Glasgow said on condition of anonymity because details about patients' condition are not to be made public.

"He has third-degree burns over most of his torso and limbs. It is beyond repair and because he has lost so much skin he is now vulnerable to infection and won't be able to fight it."
It would appear that he is suffering that which he intended to inflict upon others. I hope he has at least one lucid moment where he realizes how foresaken he really is.
Unfortunately, third degree burns destroy the nerve endings, but hey, he's gotta have some first and second degree burns as well, and those should hurt something terrible.
I hope they do everything possible to keep this man alive for as long as possible.
Posted by LindaSoG at 07:12 AM | Comments (5)
---
July 05, 2007
Today's Snark
And before you ask, no, I wouldn't have an islamic doctor. I wouldn't have an islamic anything.
Posted by LindaSoG at 01:13 PM | Comments (4)
---
June 26, 2007
Its an Al Qaeda Soap Opera
and a Cotillion Linkfest! Yup. I'm posting Episode One, and if you like it enough to want more, well, I'm gonna send you to around to a few loverly ladies of the Cotillion....
Girl on the Right has Episode Two, Blue Star Chronicles has Episode Three, My Vast Right Wing Conspiracy has Episide Four, Theodore's World has Episode Five; Yeah, Right, Whatever has Episode Six.
Enjoy!
Posted by LindaSoG at 06:37 AM | Comments (1)
---
June 12, 2007
Today's Capitalist Question
brought to you by the true religion of piss:
CAIRO, June 11 — First came the breast-feeding fatwa. It declared that the Islamic restriction on unmarried men and women being together could be lifted at work if the woman breast-fed her male colleagues five times, to establish family ties. Then came the urine fatwa. It said that drinking the urine of the Prophet Muhammad was deemed a blessing.

For the past few weeks, the breast-feeding and urine fatwas have proved a source of national embarrassment in Egypt, not least because they were issued by representatives of the highest religious authorities in the land.
So. According to the highest religious authorities in islam, drinking prophet piss is the way to go for the ulitimate blessing. But there is just on little problem, the prophet is currently dead as a doorknob and not producing any blessed piss, so where exactly is a Mohammedean supposed to find prophet piss?
Being a capitalist, and a Jew, it got me thinking. Suppose I named my dog Prophet Mohammed. Could I legally sell his urine as "Prophet Mohammed Urine" so they can get the blessings they deserve? and... it is better in a can or a bottle? and... is it better than camel urine?
What if I get a camel and name it Prophet Mohammed? Does that double the blessing?
Posted by LindaSoG at 06:13 AM | Comments (8)
---
June 07, 2007
A year ago today...
This was the headline:
Our troops rock!
Posted by LindaSoG at 10:50 AM | Comments (1)
---
June 06, 2007
Is your dick limp?
Blame the Jews for winning the Six Day War!
Egyptian columnist Wael Abdel Fattah wrote in the independent weekly Al-Fagr newspaper that Arabs blame the defeat for "everything" — from "price hikes, dictatorship, religious extremism, sectarian strife, even sexual impotence."
I'm sorry, I couldn't help myself. Just be thankful I left out the visual.

Posted by LindaSoG at 06:44 AM | Comments (3)
---
May 21, 2007
Fatwah Alert!
This time its veggie vendors....
Buried in an AP story about Sunnis fighting al-Qaida is this little tidbit:
"American commanders cite al-Qaida's severe brand of Islam, which is so extreme that in Baqouba, al-Qaida has warned street vendors not to place tomatoes beside cucumbers because the vegetables are different genders, Col. David Sutherland said."
Unfriggin believable, but true. What a bunch of backwards and demented freaks. Sheesh.
I swear, YCMTSU!
Hat tip to the Republican Riot, by way of Anti-Mullah (nice carrots Alan!).
Posted by LindaSoG at 07:47 PM | Comments (3)
---
May 11, 2007
Evil Zionist Balloons Part II
NYC Jewish News tells us that Channel 10 of Israeli television reported that a bunch of balloons released by children attending Lag Baomer festivities in Kiryat Shmona were intercepted by Hezbollah Yemach Shemam.
The balloons, with the words "We Want Moshiach Now" written on them, were proudly displayed on Hezbollah television. The Hezbollah members shown on TV were displaying the 'high-tech Israeli surveillance equipment' that they had 'captured'.
I SWTG... high tech surveillance equipment. YCMTSU.
This is almost as funny as the last time...

Run! Run for your lives!
Posted by LindaSoG at 11:40 AM | Comments (8)
---
May 02, 2007
Superman of the World?
ohfercryinoutloud. Just when you think you've heard it all...
DHAKA (Reuters) - Three simultaneous bomb blasts rocked separate railway terminals in Bangladesh on Tuesday, with militant slogans claiming to be from al Qaeda found at two of the sites.

Thin metal sheets scribbled with slogans were found at the bomb sites in Dhaka's Kamalapur and Sylhet terminals. The third blast was in the railway terminal of the southeastern city of Chittagong.

"... If Hazrat (Prophet) Mohammad is not declared the superman of the world by May 10, all non-governmental organisations will be blown up," the slogans on the metal sheets read in the Bengali language.

They were signed "the al Qaeda network" in English.
It would be funny... if they didn't mean to kill us all.
Posted by LindaSoG at 06:14 AM | Comments (1)
---
April 30, 2007
Yadda Yadda
This just in from the Taliban:
Asked about Afghanistan, al-Libi claims "only crumbs" of the Western military machine that invaded the country more than five years ago remain and that mujahedeen are poised to "finish off the remnants of the enemy's force and completely crush him."

"We are today experiencing mountains of realistic, palpable hopes, while our enemy is experiencing mountains of weakness, fear and apprehension. As soon as the mujahideen appear, he flees from them," al-Libi says.
As the boat reached the shore, Captain Larry Staley tilted the nose of the lead Apache gunship downwards into a dive. One of the men turned to face the helicopter and sank to his knees. Capt Staley's gunner pressed the trigger and the man disappeared in a cloud of smoke and dust.

By the time the gunships had finished, 21 minutes later, military officials say 14 Taliban were confirmed dead, including one of their key commanders in Helmand.
On Monday, the Apaches struck again, killing 12 Taliban whom they had caught in the open near Qalat, in Zabul province.

Lt Denton and Capt Staley were in one of the two-man aircraft, escorting two Black Hawk helicopters, when they spotted eight motorcycles, with a rider and passenger on each. It seemed unusual and the Apache broke away to take a closer look.

Dropping to 200ft, it swooped close to the motorcyclists - and the two men could not believe their luck: some of the passengers were holding the parts of a long-barrelled heavy machine-gun.

Six of the bikes slewed to a stop, their passengers leaping off and aiming their weapons at the helicopter in what appeared to be a well-practised drill, while the others took off across country. The Apache banked away to begin its attack run.

"Some of them were trying to get the heavy machine-gun up a small hill to engage us," Lt Denton said. "Capt Staley used the 30mm gun to take out the two guys who had taken off, and then we fixed on the ones with the heavy machine-gun. They were huddled around a large boulder and we shot them. We put as many rounds around it as we could, because if they got to it they could cause us trouble. But they never had a chance to set it up."

Using its cannon and then its rockets, the Apache finished off all the Taliban fighters it could find, then launched nail-filled rockets and dropped white phosphorous to destroy the motorcycles and the machine guns. After the shooting stopped, 12 Taliban were confirmed dead.
La la la...
Posted by LindaSoG at 07:06 AM | Comments (2)
---
April 29, 2007
Beauty is in the eyes of the beholder!
GUWEI'IYYA, Saudi Arabia (Reuters) - The legs are long, the eyes are big, the bodies curvaceous.
Contestants in this Saudi-style beauty pageant have all the features you might expect anywhere else in the world, but with one crucial difference -- the competitors are camels.
This week, the Qahtani tribe of western Saudi Arabia has been welcoming entrants to its Mazayen al-Ibl competition, a parade of the "most beautiful camels" in the desolate desert region of Guwei'iyya, 120 km (75 miles) west of Riyadh.
"In Lebanon they have Miss Lebanon," jokes Walid, moderator of the competition's Web site. "Here we have Miss Camel."
Camel-drivers sing songs of praise to their prized possessions as they try to calm the animals down.
"Beautiful, beautiful!" the judge mutters quietly to himself, inspecting the group. Finalists have been decorated with silver bands and body covers.
"The nose should be long and droop down, that's more beautiful," explains Sultan al-Qahtani, one of the organisers. "The ears should stand back, and the neck should be long. The hump should be high, but slightly to the back."
Hat tip to Thumby at The Mighty Righty!
Posted by LindaSoG at 03:40 PM | Comments (3)
---
April 25, 2007
Dayum
The Jewish & Israeli Blog Awards Web Site has been hacked.
I won't post a screen shot with their name. The bastards idiots.
and... its fixed. Yay!
Mr. Bagel has some info on the hackers.

Posted by LindaSoG at 06:17 PM | Comments (1)
---
April 16, 2007
Teach your children well
Lessons from Australia:
A PRO-TERROR hate film that urges children to martyr themselves in Islam's war on the West and calls Jews "pigs" has been rated PG by Australia's censors.

Sheik Feiz Mohammed's DVD box set, which also calls for the murder of non-believers, was initially seized by Federal anti-terror police.

But the Office of Film and Literature Classification has ruled that The Death Series is suitable to be bought and watched by children.
And just what will these children be watching? What will these children be learning?
The films urge parents to make their children holy warriors and martyrs, and praises jihad as the pinnacle of Islam.
The radical sheik makes snorting noises on the films as he vilifies Jews as the "army of pigs."
He blames a lack of courage for martyrdom on the battlefield for the "humiliation" of Muslims in Iraq, Afghanistan, Palestine and Guantanamo.
He says of non-Muslims, "Kaffir is the worst word ever written, a sign of infidelity, disbelief, filth, a sign of dirt."
Feiz says that children should be encouraged to become jihadists: "We want to have children and offer them as soldiers defending Islam... Teach them this: there is nothing more beloved to me than wanting to die as a mujahid. Put in their soft, tender hearts the zeal of jihad and a love of martyrdom."
and he said, "Jews are pigs that will be killed at the end of the world."
and he also said concerning Jews, "They have got the most extreme racial pride in them. They say that every single non-Jew is a slave created to serve the Jews ... Their time will come like every other evil person's time will come."
The censors' finding means children of any age can watch the films - but it is advised under-15s have a parent present.

And it found that comments vilifying Jews as an "army of pigs" and saying "behind me is a Jew, come kill him" were mitigated by the context.
The sheikh says "Put in their soft, tender heart the zeal of jihad and the love of martyrdom" and Australia is listening.
and the descent into madness continues.
Tiara Tip to Girl on the Right
Posted by LindaSoG at 03:46 AM | Comments (3)
---
March 14, 2007
Iranian Film Festival
I haven't seen 300 yet, but I'm really enjoying the commentary, and especially this from Beth at MVRWC:
What visionary artists! Oh, perhaps you'd like something more in the documentary style? I mean it's not like 300 was a documentary, but the Iranians have all sorts of film that portrays their true genius!
Oh yes, there's more, so go get the rest!
Posted by LindaSoG at 07:40 AM
---
March 09, 2007
An unlikely islamotard
Doaa Fares believed she could be somebody other than herself: a 17-year old high-school dropout from a deeply conservative Druze village, where most women marry young and settle into traditional roles.The striking brunette with sea-green eyes and pouting lips changed her name to Angelina and entered the Miss Israel beauty pageant hoping to be crowned queen, a title that comes with a cash prize, modelling contract and a car.
Instead, Angelina — the first Druze to compete in the pageant — was threatened with death, allegedly by two uncles and other men from her village who accused her of disgracing the family name with promiscuous behaviour.
When police uncovered the apparent plot to kill her last week, Ms Fares disappeared into protective custody. When she emerged from hiding she announced that she was withdrawing from the competition, fearing for her life.
"My life is much more important than a contest, but it's very difficult for me to give up my dream," she said, sitting in the darkened living room of her family home in this small Galilean village. She is too frightened to answer her mobile phone or leave the house.
Last week, police received a tip that a group of men in the village, including two of Ms Fares's uncles, were plotting to kill her. Anwar and Hatem Fares allegedly hired two men to buy guns and a third man to murder their niece. She was taken into protective custody and all five men were jailed.
The Fares family refused to press charges against the uncles, and they were released.

-----
The cancer that is islam, a symptom of which is "honor killing," is spreading to other cultures. Druze are not moslem, yet "Angelina" let the uncles who tried to murder her to protect their own honor go free, claiming that "These are people who love me and I love them."

Posted by LindaSoG at 06:44 AM | Comments (1)
---
March 04, 2007
Meet Jihad
Just another horror story of an innocent moderate moslem being oppressed by islamophobia.

The German interior ministry is appealing against a decision by the Berlin authorities to allow an Islamist to name his son Jihad, the Arabic word used for holy war.
Reda Seyam fought for 18 months for permission to give his sixth child the name after the registry in the Berlin district of Charlottenburg initially rejected his application, saying the name was inappropriate because of its association with terrorism, and "may endanger the child".
Mr Seyam, 47, a self-declared Islamist, was shown on television this week presenting his son. Grinning into the camera, Jihad on his knee, he said: "You had barely come into the world and you were in court. Your fight has already begun."
In the same programme he defended the terror attacks on the United States on September 11 2001, and on Bali in 2002.
in 2002 a Turkish couple living in Germany were denied permission to name their child Osama bin Laden.
Wouldn't you like to be his neighbor?

Posted by LindaSoG at 08:30 AM | Comments (4)
---
February 27, 2007
Islamotards on Parade
He'll fit right in.
Posted by LindaSoG at 08:55 PM | Comments (2)
---
Jihad!
Posted by LindaSoG at 02:43 PM | Comments (1)
---
The Moderate Moslems have arrived!
and they are speaking out at Muslim Bridges...
We the moderate Muslims are doing our best to build Bridges and spread the Peace with "People of the Book" (Jews, Christians, Muslims), and others who are also our brethrens in humanity. But we can't do it alone and we need your help.

We can tell you that most people around us, are loving, and supportive of us. This is a great Country, as we are free to practice Islam, and contribute to our society. Sometimes we get hate emails, but for each one of those, we may receive dozens and dozens of positive and supportive messages.

It is true that radical Muslims have caused much damage to all of us in the US, and not just Muslims. But ironically, people who are spreading Islamophobia are actually helping these radicals, and hurting us. Every time we try to speak out, and provide more tolerant and inclusive interpretations of Islam, they accuse of lying. They only wish to present Islam from the most radical interpretation. Who are they serving with this agenda? They are certainly not helping the moderate Muslims. Don't slam the door on us. Join us to say "No to Hate", "No to racism", and "No to Islamophobia".
So... the first bridge calls on Jews and Christians to unite with Molsems:
We should all listen carefully to what they have to say, especially when they explain all about terrorism and surprise... its Israel who is the terrorist:
In moderate moslem land, Jimmy Carter speaks truth to power and Israel should be destroyed, Jihad is all about human rights, Rachel Corrie is a hero who was murdered by the evil zionists, suicide bombing is a military strategy of the oppressed, Israel tortures palestinians, and the evil American Military forces innocent and peaceful patriotic moslem soldiers to kill innocent Iraqis.
In moderate moslem land, islam is pretty much just like Christianity, there are only four differences, and islam has been in solidarity with the Jews for centuries. So the message is... everyone unite and put an end to terrorism by converting to islam and destroying Israel, because islam is not the source of terrorism, it is the solution.
Sheesh.
The site does just what it advertises though, it says that if you have questions about moderate moslems, you will find all the answers. It's true! I've often wondered what a moderate moslem would sound like and I found the answer at the Bridge.
Moderate moslems sound just like extremist moslems.

Posted by LindaSoG at 01:00 AM | Comments (2)
---
Islamotards on Parade
CHICHAWATNI, Pakistan Three members of a suspected suicide bomb teamwere blown to pieces on Saturday when their bike laden with explosives hit a bump outside a town in Pakistan's central province of Punjab, police said.
The men killed by the blast near Chichawatni, some 120 km (75 miles) north of Multan, were believed to have been on their way to attack a prayer meeting for a policeman killed in an encounter a few days ago, according to Southern Punjab Additional Inspector General Mirza Mohammed Ali.
At least two of the dead men were students at a nearby madrasa, suspected of having links to Sipah-e-Sahaba Pakistan, a banned Sunni Muslim sectarian militant group, according to Deputy Superintendent Bashir Ahmed.
"The head of one man has been blown off," Ahmed told Reuters. Another of the dead men had his legs blown off, while the third had his stomach ripped open and died later in hospital, police said.
Initial investigations suggested the explosive was home-made.

Posted by LindaSoG at 12:16 AM
---
February 25, 2007
Do or Die
Can you feel the love?
Posted by LindaSoG at 06:30 AM
---
February 13, 2007
True dat!
Rough translation courtesy of Discarded Lies:
If muslims want to stay they should rip out half of the koran and throw it away. They also shouldn't listen to the imam. That is what Geert Wilders, leader of the Freedom Party, said Tuesday in an interview.

According to him, there are "plenty of horrible things" in the holy book of the muslims. Wilders states again that islam is a violent religion. "If Muhammed lived here today, I would propose to chase him as extremist with tar and feathers out of the country".

The politician wants to impress upon people that islam is "the greatest danger that is threatening us". Other parties avoid these themes according to him. "Everything we are proud of we sell to the devil. Old Mossad chief Efraim Halevy says the Third World War has started. I wouldn't quite say it the same way, but it's correct", says Wilders who previously stated his fear of a 'tsunami of islamization in the Netherlands'.

Wilders: "Walk on the streets and you see where it's leading. You feel you don't live in your own country anymore. There's a struggle going on and we have to defend ourselves. There are in the future more mosques than churches!".
Posted by LindaSoG at 06:23 AM
---
February 11, 2007
Islamotards on Parade
Posted by LindaSoG at 11:55 AM | Comments (3)
---
February 01, 2007
Honor? They have no honor
and no morals, no conscience, they are morally bankrupt and every breath they take is a waste of oxygen.
Karachi, January 31: A group of Pakistani men has been accused of raping a teenaged girl and forcing her to parade naked through her village because one of her relatives eloped with a young women from the men's family, police said on Wednesday.

Such attacks, known as honour crimes because they are committed in response to a perceived slight on a family's honour, are common in Pakistan, especially in backward, rural communities.

Police said the girl's father had filed a complaint on Saturday in Ubaro town, 530 km (330 miles) from the city of Karachi, saying a group of 11 men had kidnapped his daughter, raped her and forced her to parade naked.

The father told police the men were furious because the girl's cousin had eloped with and married a young woman from their family.
and you wonder why I'm islamophobic?
Posted by LindaSoG at 06:16 AM | Comments (1)
---
January 30, 2007
Celebrating Islamic Style
Its that time of year, again, for the peaceful followers of peaceful Islam to take some time off from peaceful rioting, burning, pillaging, beheading infidels, killing Jews and killing each other in the name of their peaceful g0d to peacefully celebrate the peaceful holy islamic holiday of Ashura.
In order to participate, you will need a sharp sword and metal chains to flagellate yourself in this unique Religion of Peace ceremony. You will also need white robes to show off the blood and gore to your fellow celebrants. Children, horses and yes, even sheep are expected to participate.
Some of you may be horrified to see these pictures but you are urged to remember that this is but one more way to worship the Prophet of Doom a/k/a Allah, and despite appearances to the contrary, this is a religion and not a cult. In fact, it is "The Religion of Peace."
Therefore, this type of behavior is not to be considered abuse, even when it is children who are being beaten and bloodied with swords and chains.
Remember, there's no crying allowed.
So shut up and enjoy the show. You might as well get used to these images, after all, if the left has its way, you will soon be able to view these things first hand in the streets of America. In fact, you will probably be expected to participate, that is, of course, if you would like to keep your head.
This year's photos, like last year's photos, really capture the spiritual side of islam:

yes, those are sheep.
Feel like praying yet? I do. I'm praying for an end to the kind of evil that could do something like this:
The origins of Ashura: When the Omayyad Moslem army arrived at Karbala, Ali, the last blood relative of Mohammed found that his cowardly army had deserted him. He rode out with about 30 of his closest followers, and they were slaughtered. Muslims flaggelate and mutilate themselves on the each anniversary of his death to show remorse for deserting him before the battle.

Posted by LindaSoG at 09:52 AM | Comments (4)
---
January 25, 2007
It's the Year of the Pig
And not just any year of the pig - it just happens to be the Year of the Golden Pig!
There are 12 animals in the Asian horoscope, and each sign comes around once every 12 years. Put together in a combination with elements such as water, fire and earth, each year is characterized to certain special meaning. Twelve different signs with five elements means you have 60 possible combinations.

The Golden Pig Year - calculated through yin-and-yang theory - happens only every 600 years.
It happens once every 600 years, and China kowtows to moslems:
Next month, China will ring in the Year of the Pig. Nestlé SA planned to celebrate with TV ads featuring a smiling cartoon pig. "Happy new pig year," the ads said.

This week, China Central Television, the national state-run TV network, banned Nestlé's ad -- and all images and spoken references to the animal in commercials, including those tied to the Lunar New Year, China's biggest holiday.

The intent: to avoid offending Muslims, who consider pigs unclean.
This, from a country that consistently suppresses any dissent, especially from its moslem population. Any sign of trouble in any moslem providence in China, the Army goes in, and like magic, ten percent of the jihadists disappear, never to be heard from again. If that don't do the trick, well, they just round up another ten percent. China doesn't give a crap about how moslems feel, this is just China looking to score propaganda points off the West.
Well screw them damn moslems, I'm celebrating!
Hat tip to Fausta for this one!
Posted by LindaSoG at 08:28 PM
---
January 24, 2007
Protesting Dhimmi Jimmy
yesterday, at Brandeis University:
Posted by LindaSoG at 01:19 PM | Comments (2)
---
Lesson of the day:
When it comes to dealing with palestinians, checkpoints, bulldozers and rubber bullets are bad, while torture with electric drills and flat out murder is good:
Shi'ite Muslims have killed more than 600 Sunni Muslims who live in Iraqi camps and claim Israel as their homeland, foreign news services reported. Iraqi police said many of the victims were tortured with electric drills.
When it comes to killing "palestinians," no one does it better than moslems.
Shi'ite militias are increasing efforts to drive out the remaining 20,000 Arabs, who were welcomed by former dictator Saddam Hussein and were given free education and housing. "We are sure that all the Palestinians in Iraq are involved in killing the Shi'ite people and they have to pay the price now," said Shi'ite terrorist Sheikh Mahmoud Al Hassani.
Now, imagine what the world outrage would be like if that was said by Israel.
Hat tip to: MVRWC
Posted by LindaSoG at 06:21 AM | Comments (1)
---
January 22, 2007
When it comes to human rights
The footage is shocking: A man lies screaming on the floor of a police station as officers sodomize him with a wooden pole.

Compounding the shock, it turns out that it was the police who made the film, and that they then transmitted it to the cell phones of the victim's friends in order to humiliate him.
The video is here, if you think you can stomach it.
In case you were wondering, Egypt is predominantly moslem, with moslems comprising 90% of the population. In fact, islam is the official state religion.
I guess its a good thing they are on the UN's Human Rights Committee, so they can investigate this kind of stuff.
Posted by LindaSoG at 06:51 AM | Comments (3)
---
January 11, 2007
Today's Perverted Islamotard
Saudi searching the Internets for pictures of "big dicks"
He didn't find it here, but I hope he found it somewhere.
Posted by LindaSoG at 09:31 AM | Comments (3)
---
January 09, 2007
Islamotards on Parade
MEMRI Clip #1347 - Saddam's Loyalist Mish'an Al-Jabouri and Shiite Iraqi Journalist Sadeq Al-Musawi Fight on Al-Jazeera TV over Saddam's Execution
Host: "Do you support the execution of Saddam Hussein?" 4,787 people, who constitute 88.6% of the public, say: "No." 11.4% say: "Yes." What do you want to say to them?

Mish'an Al-Jabouri: With your permission, before he responds... I would like to begin this show by calling upon the viewers to recite the Al-Fatiha verse for the soul of the martyred president Saddam Hussein...

Sadeq Al-Musawi: We are not going to recite the Al-Fatiha for anybody. We are here to condemn a man who killed thousands and millions of Iraqis. We are not here to recite the Al-Fatiha for anybody. He was an oppressive tyrant who spilled the blood of the Iraqis.

Mish'an Al-Jabouri: As you know, Saddam executed my own brother and many of my relatives. He executed the uncle of my children, but the way he was executed proved Saddam was a brave man. He has truly become our martyr, and we will visit his grave like the graves of the righteous.
Insult of the day: "You Persian shoe!"
Posted by LindaSoG at 06:24 AM | Comments (2)
---
January 08, 2007
Where there are moslems
Spain's bishops are alarmed by ambitious plans to recreate the city of Cordoba - once the heart of the ancient Islamic kingdom of al-Andalus - as a pilgrimage site for Muslims throughout Europe.

The bishops of those cities are alarmed at the construction of ostentatious mosques, fearing that the church's waning influence may be further eclipsed by resurgent Islam financed from abroad.
But... this is the money quote:
"Spain's Muslims have been long respectful towards civil and ecclesiastical authorities, but as numbers have grown they have turned to more radical leaders."
Be afraid. Be very afraid.
Posted by LindaSoG at 07:11 AM
---
January 03, 2007
A Moderate Moslem Speaks Out
right here in Sunny South Florida
(CBS) PALM SPRINGS A 35-year-old man was arrested after he allegedly made terrorist threats inside a Palm Springs bar, police said.

Officers detained Haider Mohammad of Palm Springs about 8 p.m. Friday at the Hair of the Dog Bar at 238 North Palm Canyon after he allegedly said he was going to "kill all Jews," said Palm Springs police Sgt. Mitch Spike.

According to witnesses, Mohammad also allegedly claimed to have an alliance with executed former Iraqi President Saddam Hussein and to be affiliated with Al Qaeda.

Mohammad was detained on suspicion of making terrorist threats in what was called a hate crime, Spike said. FBI investigators who were contacted by Palm Springs police determined that Mohammad was not a person of interest, he said.

Mohammad was booked at the Palm Springs Jail and released after posting $25,000 bail.
I suppose the "Mel Excuse" will apply.
Posted by LindaSoG at 07:16 AM | Comments (1)
---
January 01, 2007
Peace Train
Brought to you by the one and only Religion of Peace:
Watch it while you can, I get the feeling it won't last long on YouTube.
Posted by LindaSoG at 12:09 PM | Comments (4)
---
December 30, 2006
Good Riddance
The quality is poor, but it's obviously Saddam Hussien.
No blood, no guts, just Saddam Hussien's final moments. Since we can only kill him once, it's good to have the video.
Hat tip to my friend Vinne!
Posted by LindaSoG at 06:29 PM | Comments (1)
---
December 24, 2006
Here Dhimmi Dhimmi Dhimmi...
The American Thinker has an article up by A. M. Mora y Leon, extolling the virtue of the moslem paradise that can be found in friendly and tolerant Indonesia and Malaysia.
Anyone who's traveled in Malaysia and Indonesia can testify to the friendly, open-minded character of most of the citizens. Every nation has a legend, and in Malaysia there's one an American traveler might encounter it. It goes something like this:

"We have made it. We beat colonialism, we beat nationalism, we beat war, we beat poverty, we beat the Asian crisis ... let's show you around and make money together."

Friendly tolerant Indonesian moslems expressing their feelings for America
Yes, according to A. M. Mora y Leon, Malaysia and Indonesia moslems are different...
Not like the angry Muslims you might meet in a politically correct university town or see on the news demonstrating somewhere overseas. Nor the more low-key, often industrious Muslims you might meet working at a convenience store in the U.S. They are Southeast Asian Muslims.
Sure, Southeast Asian moslems are friendly, never mind that just this past week Thailand's army-backed Prime Minister Surayud Chulanont warned of large-scale attacks by friendly moslems during the New Year holidays. Never mind that schools are primary targets for friendly moslems, never mind that there are no terrorism laws to protect you from these friendly moslems. Take heart that one-year-old Rattanapol and his parents are in stable condition, recovering from wounds suffered in an attack by friendly moslems earlier this month.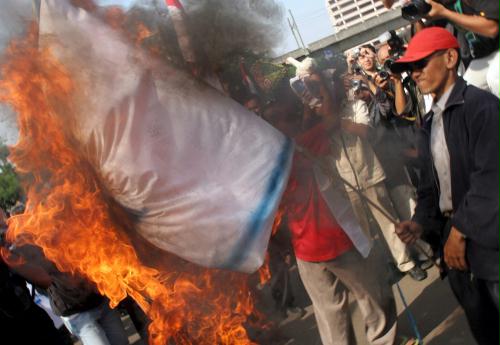 A friendly tolerant Indonesian moslem burns a Israel flag during an anti-US and Israel rally in front of the US embassy in Jakarta on Friday 30 June 2006
These are friendly moslems, and
"Their Islam is a tolerant one..."
Yeah, Indonesia and Malaysia are friendly and tolerant, just ask the Buddhist teacher who was shot in the head by friendly tolerant moslems. Oh wait, you can't ask her, she died. She was 61st teacher killed by friendly tolerant moslems during what can only be described as three years of friendly and tolerant bloodshed. Just ask the 54-year-old Buddhist man was also shot by friendly tolerant moslems. Oh wait, you can't ask him, he died too and the friendly tolerant moslems who killed him later burned his body. Oh well.
Buddhists comprise 20 of the population of the provinces in the Muslim south. When the insurgency began, individuals were the main targets of the insurgents. About 20 Buddhists were decapitated in the first year of the insurgency. Over the past year, as many Muslims as Buddhists have been killed, but following the coup of September 17, it appears that whole Buddhist communities have been placed under threat.

On Saturday, 500 Buddhist monks from 266 temples in Songkhla, Pattani, Yala and Narathiwat took part in a special prayer session for peace at Songkhla provincial hall.

While the monks and their supporters prayed for peace, killings escalated on Saturday. In Kabang district, Yala province, three Buddhist men were shot dead as they hunted for wild boar in a forest. The men had their throats cut.

In another incident in Muang district in Yala province, a grocery store was attacked by insurgent gunmen. Two teenage Buddhist boys, Thanakorn Khandam, 17, and Chaikorn Udnoon, 17, were injured.

At Muang district, a 78-year old Buddhist woman, Pongsri Charoensap, was injured when four gunmen opened fire on a group of villagers who were gathered outside a house.
You can't ask Juling Pongkunmul and Sirinat Thawornsuk about friendly tolerant moslems either, because earlier this year....
Muslim villagers descended on a school in Gujinruepo village, in Narathiwat's Rangae district. The villagers demanded to know which teachers were non-Muslim. Two women Buddhists, Juling Pongkunmul and Sirinat Thawornsuk, were identified. Ms Sirinat was dragged from a teashop, and Ms Juling was taken from a classroom.

The pair were led to a community center in the village and subjected to a prolonged beating with sticks which lasted for more than an hour. The villagers, mostly women, also prevented security forces from gaining access to Gujinruepo. When the two teachers were rescued, they had suffered horrific injuries. Ms Srinirat recovered, but Ms Juling had suffered brain lesions and had lapsed into a coma. Juling, a talented artist who had only recently begun teaching at the Gujinruepo village school, still remains in a coma, on a life support machine at Songkhlanagarin (Prince of Songhkla) Hospital in Hat Yai, Songkhla province.
In June of this year, friendly tolerant moslems killed nineteen civilians and one soldier, and wounding dozens of others - including a TV cameraman, the friendly tolerant moslems shot at them with arrows.

They look friendly, don't they?
But, don't worry, these friendly tolerant moslems are equally friendly and tolerant of other moslems. In November, some friendly moslems approached two officers and shot them at point-blank range at a food market in Yala, other friendly moslems shot a government worker to death, and other friendly moslems gunned down 24-year-old moslem villager. In Narathiwat province, a 48-year-old Muslim was shot dead at his grocery shop by two friendly moslems who posed as clients. Two moslems , including a 13-year-old boy, were shot several times by other friendly moslems in Narathiwat, they died at the scene. Police also confirmed that two people were killed in a bomb that exploded last morning outside a car showroom in Yala, presumably, the bomb was set by friendly moslems.
Despite the presence of some 30,000 heavily armed troops and auxiliary forces across the region, Muslim militants have recently escalated their campaign of violence, forcing teachers' unions in the last week of November to close schools in remote rural areas near the Thailand-Malaysia border.

"The militants are attacking the schools to make a point that the government cannot provide security."
Prime Minister Surayud Chulanont pledged to permit space for the implementation of Islamic sharia law in the region, where friendly moslems make up about 80% of the local population and in return:
Surayud's goodwill gestures have been returned with a spike in violence that escalated as November drew to a close. Apart from targeting schools, frequent attacks on Buddhist monks in Narathiwat province compelled the ascetics to stop the traditional practice of collecting alms every morning. At least 200 Buddhist villagers have recently fled their homes in Yala province because of escalating militant attacks.
According to the American Thinker, and A. M. Mora y Leon, this is the message from the friendly moslems of Malaysia and Thailand:
"You American, you have come so far... we admire you. Here's our beautiful country, we're pleased you like it, we want to share it some more... so let's get to know each other."
Yeah. Right. Me love you long time and never mind that at a November 17 rally, Hasnoor Sidang Hussein, a member of the ruling moslem party in Malaysia, declared: "UMNO is willing to risk lives and bathe in blood in defense of race and religion."
Never mind that just this past November, one of these friendly tolerant moslem preachers publicly said it was the obligation of Muslims to assassinate George W. Bush during his visit to Indonesia. Never mind that in Jakarta, three friendly tolerant moslems are on trial now for decapitating three Christian schoolgirls in central Sulawesi last year as they were walking to class. Never mind that on the main island of Java, mobs of friendly tolerant moslems have forcibly closed dozens of Christian churches.

A friendly, tolerant moslem protesting President Bush in Indonesia
Maybe its time for more pretty peaceful paper cranes.
Posted by LindaSoG at 10:15 AM | Comments (4)
---
December 23, 2006
Because I can

"If your opponent is quick to anger, seek to irritate him." - Sun Tzu
Posted by LindaSoG at 05:54 PM
---
December 14, 2006
Die already!
You don't scare me, even if you are wearing your insides on your outsides, you ugly evil looking bastard!
Are you in pain? I hope so, oh yes I do. And as long as you're alive, I hope it hurts.
Guess what your virgins are gonna look like:
Posted by LindaSoG at 03:27 PM | Comments (1)
---
November 30, 2006
Educating Women ~ Moslem style
Disembowelled, then torn apart: The price of daring to teach girls
The gunmen came at night to drag Mohammed Halim away from his home, in front of his crying children and his wife begging for mercy.

The 46-year-old schoolteacher tried to reassure his family that he would return safely. But his life was over, he was part-disembowelled and then torn apart with his arms and legs tied to motorbikes, the remains put on display as a warning to others against defying Taliban orders to stop educating girls.
The Religion of Peace treats women equally and fairly and don't you forget it.
Posted by LindaSoG at 06:49 AM | Comments (2)
---
November 29, 2006
Love is in the air
Posted by LindaSoG at 07:35 PM | Comments (8)
---
Et tu Clippy?

click it!
Posted by LindaSoG at 12:23 PM | Comments (1)
---
November 19, 2006
Islamotards on Parade
What do you suppose happens when a bunch of islamotards hotlink this Jewish girl from Brooklyn? Well, the answer is: they go from this...
to this:
Now... how much fun is that?
But wait... there's more!
These islamotards are arguing over which terrorist groups have the best looking terrorists. Ahahaha! And they linked a Al-Sadr picture from my site. It too has been changed.
Posted by LindaSoG at 03:28 PM | Comments (1)
---
November 10, 2006
Ooops
An explosion destroyed the house of Popular Front for the Liberation of Palestine (PFLP) leader Talal Abu Safiyah late Thursday in Gaza City, apparently a "work accident" with explosives, Palestinian security officials said.

Two people were rescued alive from the rubble. The security officials said the blast was caused by explosives inside the house.

The PFLP said the house was hit by a missile fired from an Israeli F-16 warplane, but other Palestinians said they did not hear a warplane overhead.

The IDF said there was no airstrike.

There was as yet no information on whether Abu Safiyah was in the house at the time.
Doing the happy dance here.

Posted by LindaSoG at 09:06 AM | Comments (1)
---
October 28, 2006
Beware the Shawal Moon
Moslems kill moslems over the sighting of the moon:
You know, it might be funny, were it not so absolutely demented and pathetic.
But... on a happy note, that's 14 less we gotta kill.
Posted by LindaSoG at 11:30 PM | Comments (1)
---